How AI will take your Digital Marketing to the next level
It is an unarguable fact that artificial intelligence (AI) is revolutionising industries with its ability to analyse data and learn from it, and will continue to do so even more in the years to come. It is definitely one of the hottest topics at the moment. And for a good reason: AI is the future of digital marketing and advertising technology.

But even though the term "artificial intelligence" is very popular these days, most of us still don't know how to get a full grasp of it. You probably hear people talk about it A LOT, but do you really understand what artificial intelligence means? What comes to your mind when you think about AI?
This post will explain what artificial intelligence is really all about and how it can help you improve your digital marketing strategy.
What is Artificial Intelligence?
To put it simply, AI is an application of technology through which machines learn to process information and respond to it in an appropriate way. Pretty much just like humans, but a lot faster and more reliable. The best part? There is no limit: AI algorithms will learn as much as you let them. The more input they get, the better they become.
If you need more context, we're talking about lines of code that you can apply to your website. Once activated, the code will start collecting various online data, process them under (any) given conditions, analyse the outcome and send an automated response as a result. This process is called machine learning.
You can use machine learning to work through huge amounts of data and learn much valuable information about your online visitors. You can determine when is the best time to contact them, find out what exactly catches their attention (and what doesn't), and establish which headers and titles generate the most clicks on your website. And then make it all better.
Machine learning algorithms are written not only to learn from data, but also to make data-related predictions. These modest lines of code are carefully programmed to take intelligent actions based on any given input.
The use of smart algorithms allows you to process and analyse important facts about each of your visitors. Their physical location, demographics, previous online interactions, the device they use and other variables are all taken into account and combined into an online profile. Based on that profile, AI will personalise your visitor's online experience by showing them offers and products matching their personal preferences.
They get what they want, you make the sale. Everybody wins.

And yet, AI-driven solutions and smart tools have much more to offer. They will help you make smarter decisions and answer all important business questions by providing invaluable insights based on the repetitive behavioural patterns of thousands of internet users. Ultimately, AI will help you save both, time and money, so you can fully focus on what you're best at - giving your customers an unforgettable offline experience.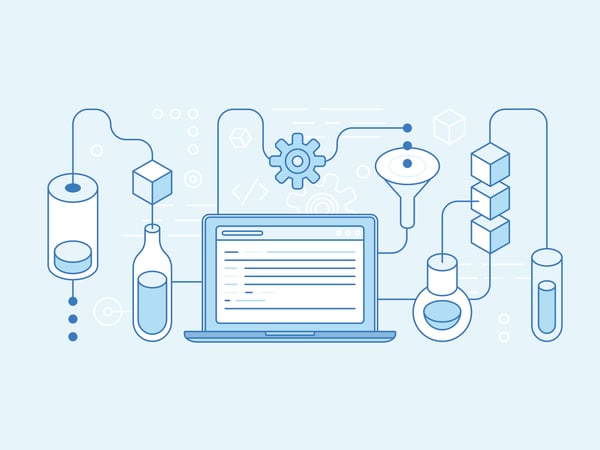 Artificial Intelligence: the smartest way of using data
Did you know that 90% of the world's data has been generated in the last two years alone? Every single second, an extensive amount of data is generated simultaneously all around the globe. This means, that every time someone runs a search query in Google, they automatically feed the global search machine with their individual data and make it even more intelligent.
But all of this information is completely useless if you don't have the means to analyse it and translate into your company's success. Let's be honest. It's almost the end of 2018 and you can't afford to misunderstand your online visitors and their needs. If you want to grow your business, accommodating a sophisticated website solution that recognises your customers' online behaviour and adjusts its responses accordingly, should be your Status Quo.
In such state of affairs, marketers become more and more confident about using AI in their digital marketing strategies. Even though not all of them fully understand what artificial intelligence really is, they sure love to see the amazing results it provides.


A survey from Salesforce reports that 51% of marketing leaders say that they currently use AI in some capacity, with a further 27% planning on incorporating artificial intelligence in the upcoming year.


As it turns out, AI empowers marketers to manage their time and efforts much more efficiently. In fact, relying on data rather than assumptions boosts the productivity of a whole company. Brands and companies start to realise how they can leverage automated digital marketing services to save time and resources while improving their overall results. But it seems that only the most successful ones use AI-driven tools as the main source of insights for their business strategy.
The list of questions that can be answered with a little help from data-driven AI solutions is truly impressive. Just to bring a few examples:
1. How likely is it that visitors will buy directly from your website?
1a. Why?
2. How much is a specific lead willing to pay for your services?
2a. Why?
3. Which of your customers are likely to stop using your services soon?
3a. Why?
3b. What can you do keep them?
4. What are the main personality traits of your clients?
4a. How can you use them to work in your advantage?
5. Which characteristics should you include in your visitors' segmentation?
5a. Why?

In case these powerful insights aren't enough of a reason to make you start creating your own, AI-powered website experience - read on! You're about to find out more about the competitive advantages that come along with AI.
How AI can help your business:
Understand your audience better and always make smart decisions
Once you have a better understanding of your online visitors and what drives them, you can start creating a better user experience. If you can recognise their behavioural patterns and predict buying intent and, you can also address these in a more personal and engaging way. Use the information you already have and gain new insights by testing different solutions. Find out what works for your audience, what doesn't and why.
Increase your ROI
Stop making assumptions. Rely on data and hit all the right spots.
The AI-powered analysis will inspect and interpret all the relevant data to identify your most valuable customers and high-quality leads - effortlessly and with the highest accuracy. It will also help you create highly engaging and converting content to make sure that every offer is relevant and every word counts.

Increase your effectiveness and productivity
Forget about the pains of trial and error. Save yourself a lot of time and maximise all your efforts by creating a perfectly structured environment and automating default, repetitive tasks. This way you can assure that nothing gets overlooked and stay fully focused on making your venue the place your customers fall in love with.


In the 2017 Everygage survey on personalisation in real time, 63% of marketers responded that it increased conversion rates and improved the consumer's experience.
How does AI do all this? In the following section, you will find out more about different applications of Artificial Intelligence and how they are changing the future of Digital Marketing.
Read on!

The future is now:

4 examples of AI-driven solutions you should include in your Digital Marketing strategy
1. Predictive analytics
Artificial intelligence is able to analyse historical data, connect relevant information and draw meaningful conclusions that will help you predict future outcomes. It will not only point out which of your customers are more likely to be loyal but also let you know what kind of attention you should give to whom. These insights will allow you to identify the most promising leads and approach them in the most accurate way. There's really no better way to increase your ROI.
The predictive super-power of AI has been proven both, effective and versatile in its applicability across all markets. In fact, we all rely on it in our everyday lives. Banks are using AI to decide whether or not to approve your loan request, insurance companies base their rates on the AI-driven analysis, internet providers use AI... I could go on, but you get the idea.

In a similar way, e-commerce and leisure companies can make a use of artificial intelligence to build their recommendation engines. Which, by the way, is a very smart way to grow your business. Product suggestions based on historical data and behavioural patterns come as a perfect solution for everyone - it will grow your revenue just as much as your customers' satisfaction.


2. Data-driven segmenting and customisation
It feels like it's been ages, but it really wasn't that long ago when companies were still in the dark about their online visitors. Any segmentation attempt was based on a fair share of assumptions and speculations about the significant characteristics of the different target groups. Luckily, all this is a ghost of the past. Today's data-driven segmentation solutions are able to find meaningful patterns in the overwhelming complexity of big data. Thanks to machine learning algorithms you can extract actionable insights from nearly any data-set in a given context.


3. Natural language processing (NLP)
NLP is a technology through which computers can "understand" and reproduce human language. Although the language processing applications are in the early stage of development that isn't very mature yet, they are definitely one of the most interesting tools that might soon change the online space for good.
NLP applications are mostly used in chat-bots and other tools providing virtual customer support. Of course, any interaction with customers is meticulously tracked, analysed and optimised to perform better and better. This itself makes the NLP technology a perfect tool for the sentiment analysis. It will identify, categorise and evaluate everything the word on the street says. Knowing what your customers say about you, opinions they share on social media and other thought-exchange platforms will show you exactly how strong you stand as a brand and point out where you could improve as a business.

4. Psychographic personas
In addition to demographic and behavioural filtering and categorisation, AI can also perform a psychographic segmentation and help you better understand what different factors are important for different customers.
Psychographic segmentation is a method used to group prospective, current or previous customers by their shared personality traits, beliefs, values, attitudes, interests, and lifestyles and other factors.
Knowing your audience's values and openly sharing those values will grow you a strong base of loyal customers and dedicated ambassadors. In the end, the more psychographic segments you can win, the bigger your market share!
Final thoughts
As you can see, AI is changing and shaping the future of marketing in a very smart and non-abusive way. Integrating AI-powered solutions in your marketing strategy will really transform your business: revolutionise the way you engage with your audience and improve customer experience, gain new customers and retain the ones you already have, increase the conversion rates on your own website. Or in short, grow your revenue the smart way.
Do you want to stay on top of the game? Decide which of the AI-powered solutions is best for your own business needs and book a demo!
Let us know how you feel about giving AI a shot by leaving a comment below. Or share how your company is already benefiting from using artificial intelligence. We would love to hear about your experiences.