How mobile apps turn one-time buyers into loyal fans
The goal of the experience economy is grand yet straightforward: bringing great experiences to visitors. Of course, what these experiences look like depends on many factors, such as the type of venue you have, whether your visitors are families or groups of friends, or even whether their online booking experience is easy & smooth or not. Every single element will impact their experience.
Yet, in between all these and many more touch points, the ultimate win is turning first-time visitors into returning visitors. It boosts revenue and provides you with direct positive feedback that your experience is worth extending beyond a one-off visit!
First, it is important to understand that one-off purchasers experience a linear customer journey. This customer journey has the discovery stage, where they come across an ad or newspaper mention, start looking you up and planning their visit, booking and purchasing your tickets, and finally, experiencing your venue during their visit. On this journey, suggesting and considering a return is missing entirely.



But what will make the difference is the right toolkit to turn first-timers into returning visitors and even loyal fans. Clearly, this means adding a promotional component at the end of this journey to promote a return.
But in the end, the mere promotion won't get you there on its own. It is the entire package - your entire experience - that will increase loyalty.
Meaning you will need a toolkit that spans over the whole customer journey to retain and impress your customers. Promotion will only be the cherry on top that will give your visitors just another push to reconsider a return.
Thankfully, mobile apps come in extremely handy in advancing your customer journey and bringing in the missing components to delight and re-engage your customers.
A mobile app is the toolkit to enhance the entire customer journey
Let's go back to the linear scenario of the first-time buyer for a second: Imagine your visitor discovers your venue via your online ads or remembers that your venue has been on the bucket list for long; they start planning and eventually book their visit. Once they booked their visit, they will get the opportunity to download your app by receiving their booking confirmation.


Before


Downloading the app will open up the possibility to:
Have the tickets always ready and accessible without printing them by having all tickets in the Wallet.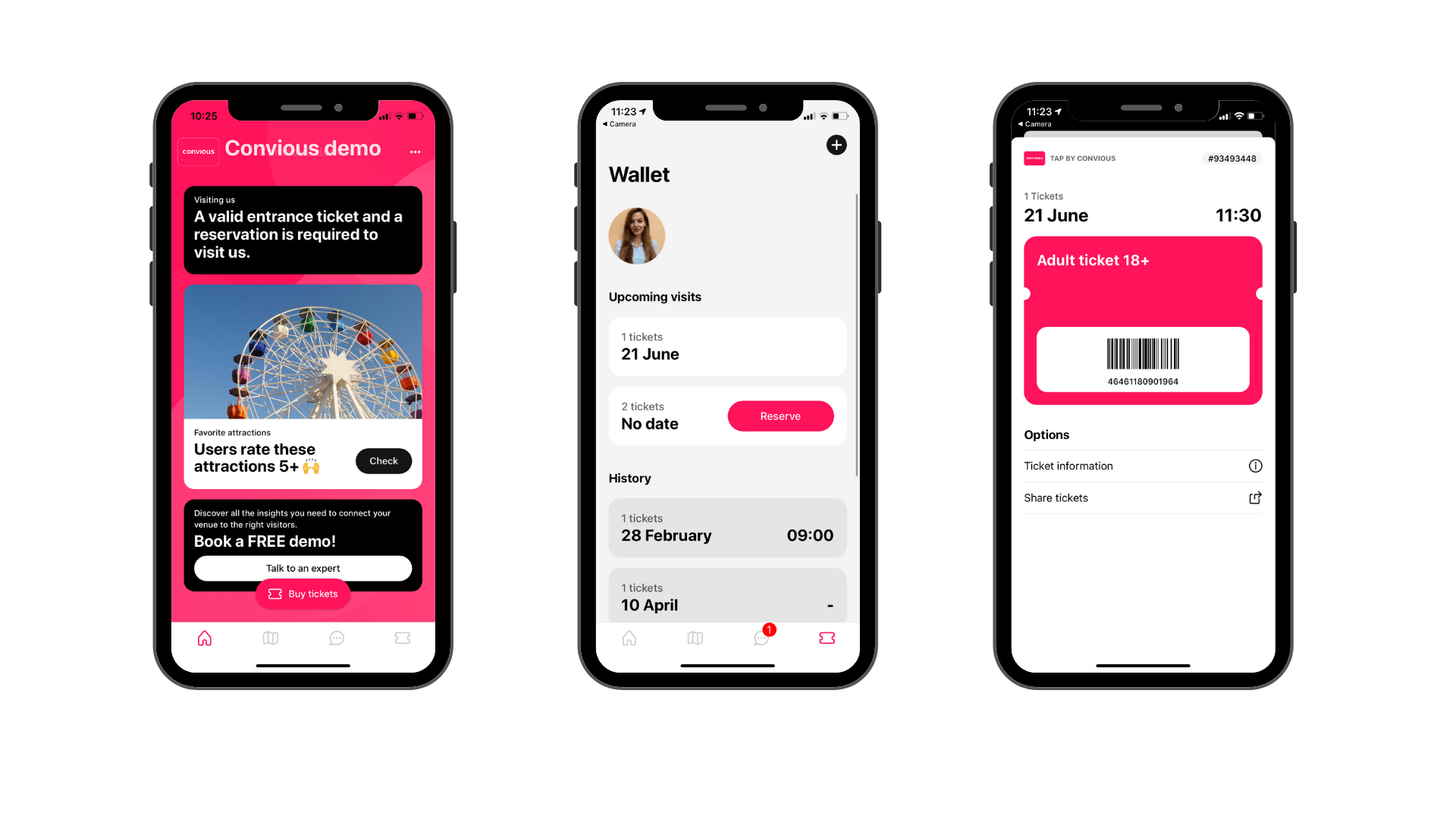 Start exploring your venue via the content you provide - maybe they will have a quick peek at your rides or your restaurants and snack bars.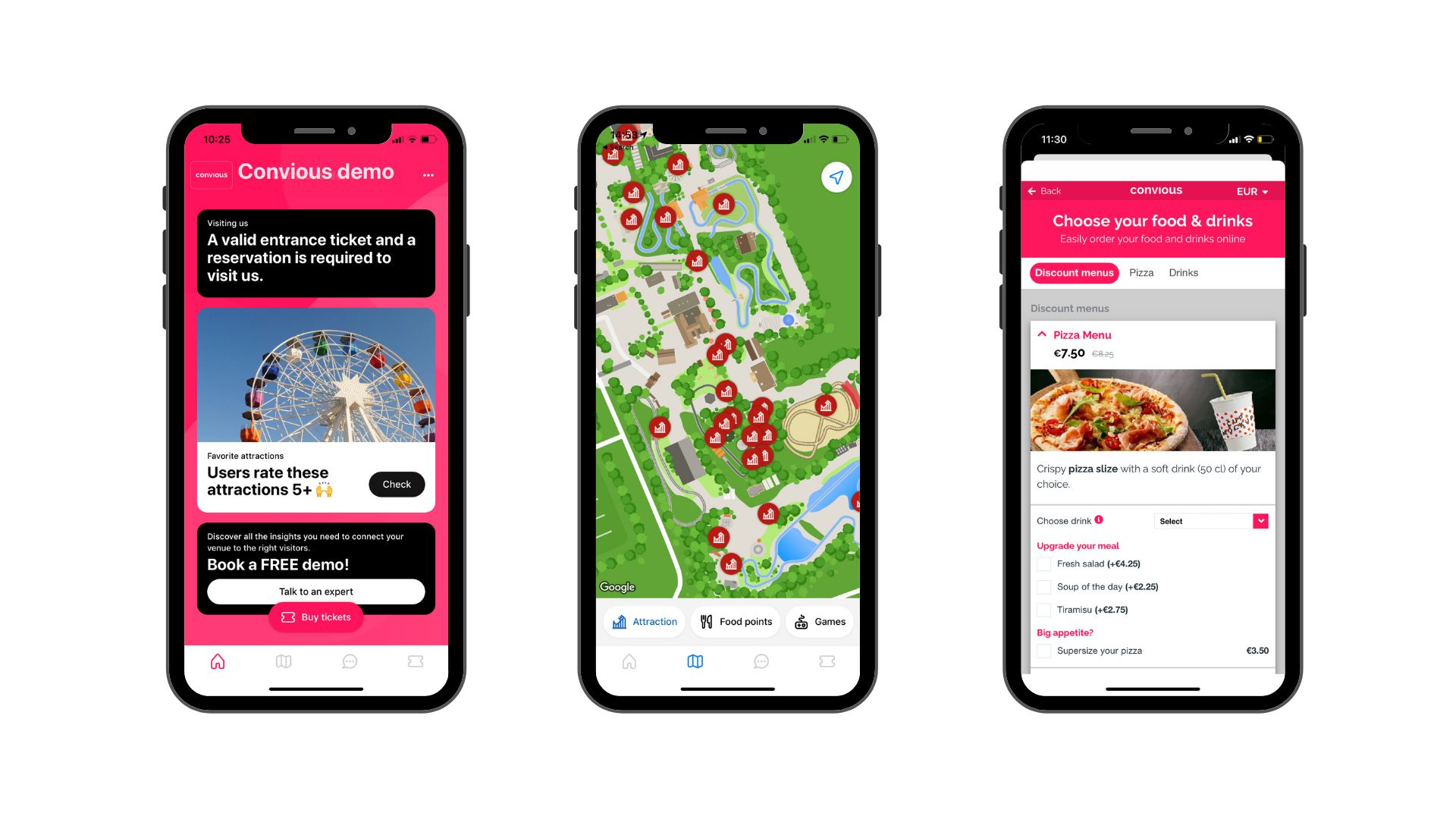 Get excited by receiving push notifications acting as a reminder of the big day ahead.


During
On the visit day, approaching admission, your visitor needs 2 clicks to get the tickets ready - an experience as smooth as silk.

Then the real fun begins:
While roaming through your park, your visitor can make the most out of their day by following their own route - knowing exactly where which ride they want to go on is located via your virtual park map.

They will enjoy every minute, feel safe and avoid excessive waiting because the heat maps and ride waiting times show them exactly where fewer people are and which rollercoaster to jump in before lunch is ready in a few minutes.

Talking about lunch: No waiting times, cashless payment, and the food prepared & ready for pick up after the next ride - with mobile food ordering, your visitors have a complete overview of your menu, an intuitive order flow without time pressure and enjoy their time waiting!

Here is a preview of how fun waiting could be:




If they are all over the place, a message suggesting the next ride or a restaurant to grab some lunch close by, based on their location, will help make the most use of their time.




After
The day has come to an end, but the experience has not!
On their way home, they are curious and want to know more about the rides they've been on or the animals they've seen - here, your content provides, once again, all the answers!
Still excited from the day before, the following day, they receive a personalised message "We hope you had an amazing time! We would love to hear what you thought about the adventure ride and double-cheeseburger!" Ready to share their personal experience with the world, they leave a review and relive their glorious experience once again.
A few weeks later, the great memories can be revived, and consider making new ones by receiving notifications about personalised offers "Buy 1 day ticket now and receive a double-cheeseburger menu with a 30% discount!" or "Checkout our new adventurer escape room!"
Before...
And this is how your visitor is once again at a new beginning of their visit. And now, with the mobile app at hand, they can easily buy tickets at the tip of their fingers, follow the updates in your app - maybe they will indeed follow up regularly and wait for a special event or offer, but the convenience of booking with you is right there on their phone's home screen- at all times.
In the end, a mobile app helps to enhance the entire customer journey, and adding promotion will take a great stake in reshaping your linear customer journey into a loop that will re-engage buyers and turn them into loyal fans.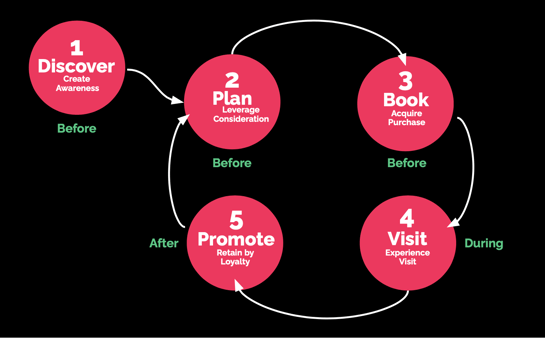 Do you want to know how you can hop into your own app without having to develop it yourself?