7 steps to reopening your leisure venue post-lockdown
A comprehensive guide on the 'new normal' for attraction venues after the lockdown of the COVID-19 crisis.
Are you currently debating on when and how to reopen your venue? A short answer on the topic consists of 4 steps: research, care, professionalism, and a touch of positivity. While this seems rather simple, the pandemic and its resulting situation pose serious organizational challenges. To help you out, we have comprised a comprehensive guide to reopening your amusement park assuring the safety of your employees and visitors.
No time to read? Download HERE our actionable guide "Successful Reopening Measures" E-book for free.
Before you welcome your visitors...
1. Keep in touch
Reassure your customers. Assuming that you had to close down your business for a while during the lockdown, you should still communicate with your customers via social media channels. Keep them up to date with how you are handling the situation. It is of huge importance to preserve the trust of your customers during this time so that they have enough faith that your venue will be prioritising their health when you reopen.


Reassure your employees. Do not forget to also stay in touch with all your employees, organise online calls not only to talk about the future but to also keep up the community spirit.
2. Do your research
Know the numbers. The first vital course of action you need to consider is to be on point with the situation not only on a global scale but also in your country, as well as city if you can acquire that information.


Be mindful of the measures taken by your government and make sure to note them down. Make a list of all the important COVID-19 measures and keep them on top of your mind when coming up with a plan for your reopening. You will most likely have to work with the local authorities to re-open your venue.


3. Gather the forces
Organise a team around COVID-19 research. Have an online meeting with a couple of members of your team and assign research responsibilities to create a conclusive list of all necessary precautions for your venue reopening.


4. What's your strategy?
Partial reopening plans. Together with your team evaluate all the attractions in your venue and consider which ones could be reopened and reinstalled abiding all the health concerns. Also, measure your full capacity and make sure to reduce it with regard to the local governmental requests.
A quick tip: Make a map of the entire location to make this entire process easier.
5. Educate your employees
Hold educational webinars. Make sure your employees are aware of the consequences related to the virus and be prepared to protect themselves. Educate them about the health risks and safety procedures and make sure they are up to date with all the measures necessary to protect themselves and their families. You will be ensuring that they are well taken care of and can work in a healthy environment.


6. Get to work
Hold educational webinars.

Protecting your employees should be the main concern. You need to make sure they are aware of the consequences related to the virus and be prepared to protect themselves. Educate them about the health risks and safety procedures and make sure they are up to date with all the measures necessary to protect themselves and their families. You will be ensuring that they are well taken care of and can work in a healthy environment.


Re-install & check up all the attractions. During the lockdown, you might have had to take down your attractions. Now is the time to double and triple-check and make sure that they are technically safe and sound.


Check up on all the tech. During the lockdown, you might have shut down your surveillance and other necessary equipment to keep your park running so now is the time to get it turned on again and ensure they comply with new standards.


Online registration process.

If you have no idea how to do that:

Even during these hard times, innovation must continue. If you have not been selling your tickets online until now, it is time to find solutions to start doing so. Think of this investment as a long-term advantage for your business, as it will result in an improved customer experience, minimising queues and frustration. If you have no idea where to start with the online ticketing systems, check out these 6 key features your online ticket tool should have.


If you are already selling online: Even if you have experience with selling tickets online, this is the time to improve your service. Check out tools such as dynamic pricing and crowd control to provide the best solutions for your business in times of crisis. Also, take this time to improve your website and market it in online channels effectively.
In both cases, no matter if you are a master of the digital world or you are just getting started, make sure to check out all the available tools you can have at hand. The future is here and a key tool right now, keeping you up to date, is an AI-driven platform. If you want to know more about machine learning, crowd control, and behaviour monitoring, check out how AI is key to facing the corona crisis in the experience economy.
Ensure enough disinfectant products and protection equipment for your employees. Make sure you are stocked up on cleaning products for all your attractions, as well as reusable masks and gloves for your employees.


Profound clean-up. After you have reinstalled your entire equipment, it is time to roll up your sleeves. Extensively clean out your entire venue, all surfaces should be sparkling clean, both for your employees and visitors. And this needs to be a repeated process that is part of your bigger hygiene concept.


Disinfectant stations. Use that map we advised you on earlier and point out all locations where disinfectant kiosks can be placed for your visitors. A good idea is to have one in front of every attraction.


Ensure a distance of 1.5 meters in queues in front of attractions. Map out queue lines on the ground for visitors to be able to form lines at a safe distance in front of roller coasters and other attractions. If this is not possible due to space, make sure your visitors are wearing face masks.


Come up with plans on how to ensure 1.5 meters in the attractions. Put up 1.5 m signs and provide guides on how visitors should sit in roller coasters or stand in different attractions at least 1.5 meters apart.


Map out your entire venue. You should also think about the walking flow in between locations, map out the ground for people to walk in lanes, as if on the road. And ensure a 1.5-meter distance between the two lanes.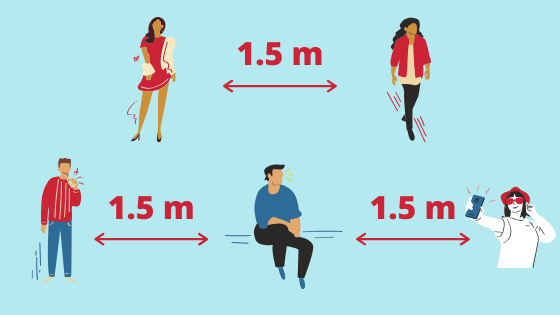 Clean up the used equipment. Think of ways to clean up after visitors are leaving each attraction. Your employees might have to take a few extra minutes to clean and disinfect in preparation for the next group of visitors.
Communicate, Communicate, Communicate. After you have taken all the necessary precautions, make sure your future visitors know about all the preparations. Use all possible marketing channels to welcome them and ensure that they are safe to come and enjoy a good day at your venue. Who communicates what is now more important than ever.
After reopening...
7. Enforce the rules strictly for both employees and visitors
Finally, it is important that the rules you put in place are actually implemented. The 'new normal should really feel as natural as possible and the procedure should run smoothly and effortlessly.
What are the additional measures you are taking? Make sure you comment down below with all the ideas you have to keep your business on top of the game.