By Vanessa Fagard on 6/18/20 8:30 AM
#6 Ride Review: What to expect when visiting a leisure venue during times of COVID-19
How do the new safety measures affect the guest experience?
We asked Ride Review to share their latest experiences and feelings about amusement park visits across Germany and the Netherlands. Together, we break down a comparison of what a visit looks like now compared to before.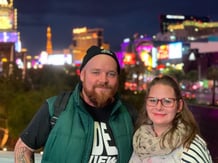 With 8 years of review, experiences put on YouTube, around 50k followers tune in to watch their daily park introductions, vlogs, reports, interviews, and much more.
Now, Uschi is switching to English and joins us on Convious on air!
Listen in now! You can find an episode overview below.
You can also listen & follow us on Spotify!
Episode Overview:
The sweet spot visitors experience (1:58)
Who is Ride Review? (2:36)
How Ride Review plans venue visits (6:33)
Closed venues - and now?! (8:54)
Very first thoughts & feelings of reopening measures (10:16)
WE ARE OPEN - First visits & impressions (12:26)
Ticket Purchase, arrival, and admission (e-tickets & time-slots) (13:57)
Inside - movement around the park (16:51)
Reduced capacity & limitations (17:56)
Waiting times (19:17)
The sweet spot (20:26)
Comparison: a visit before & during COVID-19 (21:56)
Local orientation for 2020 (22:52)
Advice & a big thank you to open venues during these times (23:52)
Access to more resources (27:38)
Would you like to stay updated? Follow us on Soundcloud , Spotify or subscribe to Convious on air via our blog to get all our insights directly delivered to you.
And make sure you check out Ride Review on YouTube!