Leisure tested positive on creativity: 4 inspiring marketing campaigns
What does India's largest Amusement Park, a Romanian waterpark, the second-oldest operating amusement park in the United States, and Wunderland Kalkar have in common? They all test positive for creativity!
2020 has taught the leisure industry what appears to be an almost never-ending list of vital learnings. New trends have formed and leisure businesses have discovered new customer segments, and sources of revenue streams, while others vanished entirely. But if one thing has been proven, competition does not matter when it comes to resilience and creativity.

No matter where you are located on the globe, the industry of amusement and attractions has evidently proven how its strong ties among one another can set-forth change and guarantee the survival of smaller and bigger players alike. Diminishing the assumptions that the bigger the park, the smaller the problems, and vice versa. This astonishing industry has successfully recognized that each venue comes with its very own and very important obstacles to overcome.

As an enabler at the heart of the industry, we know the strong ties and support for one another can not be taken out of the equation when it comes to understanding the spark of creativity we witnessed within the past months.

During the first lockdown, we already shared with you 4 venues who faced COVID-19 creatively and, thus, quite successfully. So why stop at 4 venues if there is so much more inspiring input out there? With open eyes and ears, we monitored the industry and synthesized actionable tips on how you can start brainstorming ideas for your venue while closing, either due to new restrictions and partial lockdowns but also any venue closed for the winter break!
1. Esselworld Live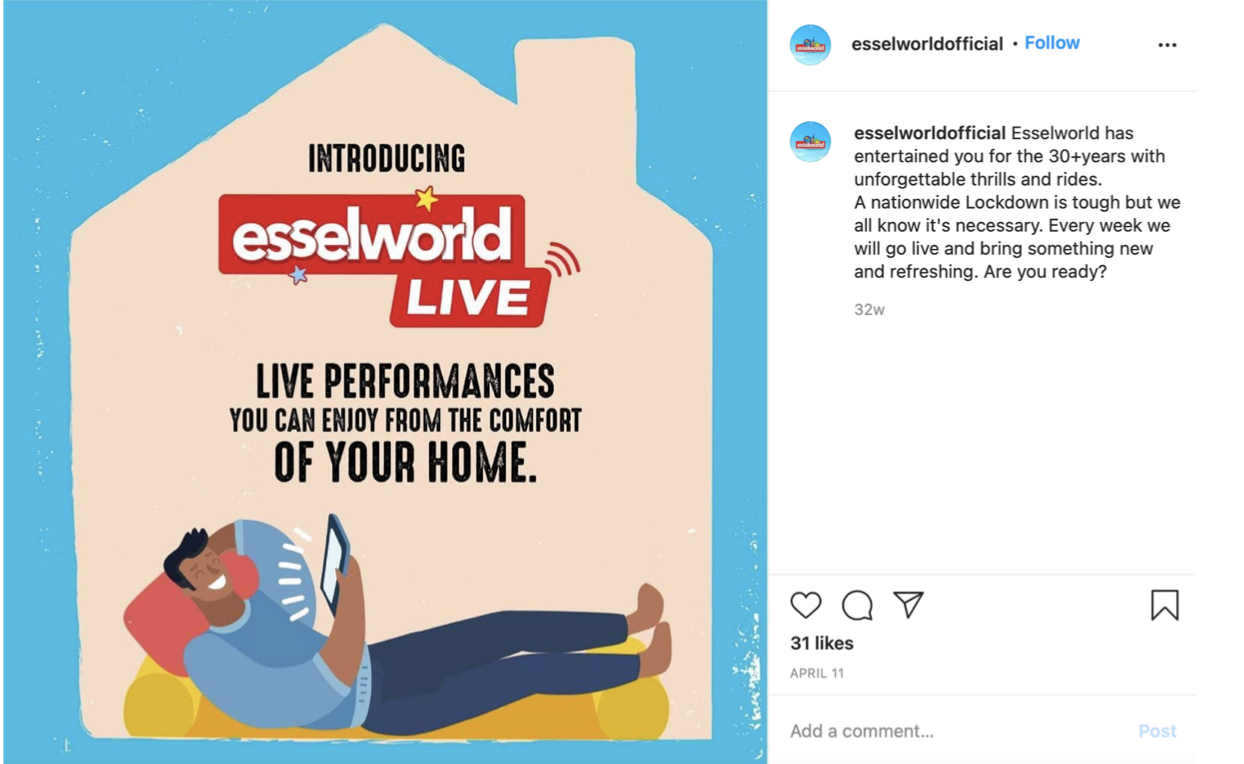 Esselworld is indeed one of India's largest amusement parks, and while India was and is still one of the countries most heavily affected by constant COVID-19 outbreaks, they took the 'show must go on' philosophy to the next level. During the full lockdown, Esselworld started having weekly live sessions on Instagram featuring famous DJs and public spokespeople and going completely rogue: having birds hosting streams! Yes, at one point, a marketing team member must have thought: "Hey, what do we need celebrities for if we have Celebirdies?" I am not kidding you; the word 'Celebirdy' was actually coined by them.


I know live streaming might seem obvious or boring to you right now as it has found its way into our daily lives so well already. But don't be so quick to dismiss it! ! If used creatively and not at random, it holds many opportunities: it provides you with a direct connection to your fans for entertainment, interaction & education alike.
What can you do now?
Browse your Instagram follower insights to find out who your followers are.
Connect the insights you found with the qualitative insights you already have about your fans.
Start brainstorming the content they would like to see. Do you maybe have a mascot or characters who usually wander around your park that your fans know and love? Let them take over and share stories or play live games with your audience.
Test everything: Plan - execute - evaluate - repeat!
2. Sharing is caring at Divertiland

A simple idea executed so beautifully and creatively we had to share it with you!
The waterpark Divertiland, located in Romania, shows how you can take a widely used and almost exploited concept such as #Throwback and turn it into a unique and special one to remember. Asking your fans to share their memories gives them the chance to reminisce and relive their experiences with you heightening your chance to gain their loyalty. It also creates a strong sense of belonging and even anticipation for every user reached. Oh! And not to forget - user-generated content also takes quite some work off of your hands - while the beautiful design by Divertiland probably also took quite some great minds and hands to create.

What can you do now?
Think about some highlights in your season and how you could make your audience relive their favorite moments. Maybe your perfect throwback is not an image but a video message!

3. #NutsWithoutYou - Cedar Point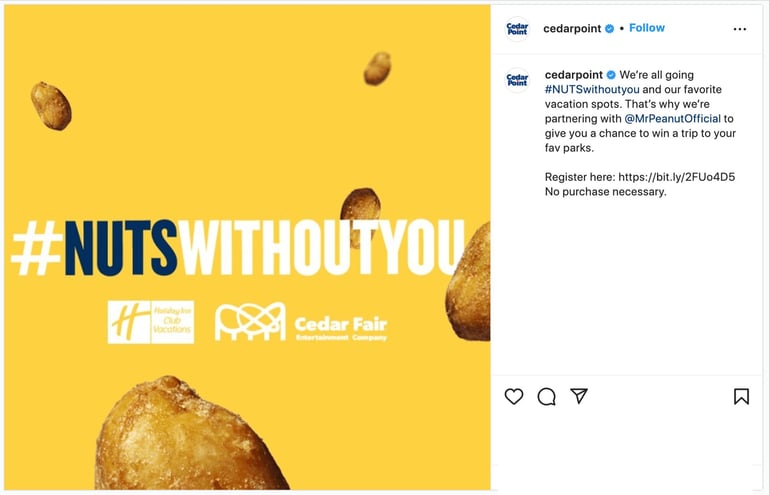 The US theme park Cedar Point, which astonishingly first opened in the1870's, provides yet another example of how partnering up can be deliciously fruitful and creative at the same time. To show their fans just how much they are missing their fans and wanting to reconnect with them while also creating anticipation, they planned to give away trips to the ones true to them during tough times. When brainstorming the execution of this idea, a collaboration with the nut vendor Mr. Peanut allowed them to make such an idea feasible while adding extra exposure to the campaign and made a delicious pun work.

The bottom line, partnerships are a powerful tool that comes along with a long list of benefits; besides the ones already mentioned, when connecting to a local vendor, you also have the opportunity to support your region and grow stronger together. And just think about what you are serving your fans - gamification on a silver platter!


What can you do now?
Think about what you would like to achieve - what campaign could create additional value and conversation around your venue in your region?
Now, think about the local businesses in your region and create a list.
Cross-reference the list of local businesses with the visions you had at first and see what matches! When doing this, push yourself creatively - don't dismiss ideas based on first assumptions. Sometimes this means approaching business within different sector niches and starting a conversation.

I mean, who would have thought of Nuts being so strongly tied to a theme park? After all, there is no cartoon elephant involved there.


As Germany's dear Christmas markets have been canceled almost across the entire country, this creative idea lets especially German hearts beat a little faster. We all encountered drive-in cinemas by many great venues such as Fort Fun Abenteuerland earlier this year, and with Christmas coming around, the team of Wunderland Kalkar just took this idea to the next level. In the evening hours starting from December 10th following every Wednesday till Sunday until Christmas, Wunderland Kalkar offers an entire drive-thru Christmas market including all the Christmas heart asks for: twinkle lights, traditional food, mulled wine, and even fake snow and real animals. Welcome to Winter Wunderland: an unforgettable evening drive for the entire family.


In fact, this idea is taking traction around the globe: Six Flags is currently hosting a drive-thru with live holiday performances while restrictions prevent parks from reopening across its state in the US.


Clearly, these examples show how the idea of drive-thrus can be adapted and shaped as each venue allows and envisions. And as long as restrictions tighten and loosen, it appears to be great to have in place a strategy to fall back on...


What can you do now?
First things first, obviously you need to check whether your venue allows re-routing cars or if you maybe have to repurpose your parking spaces instead! Here again, it is important not to dismiss at the first hinders.

Think about your theme. You do not need to reinvent the wheel; start brainstorming based on your current attractions and live performances, and see how you could add extra value.

What do you have? What do you need? It is time to get concrete by making a list of the resources you have at hand and the resources missing to make your vision come to life.
After considering these 4 inspiring campaigns, what does it all come down to?
In a nutshell, all ideas…


...challenge the status quo by making a rather generally known idea their own. This delivers a unique experience tailored to the venues and, most importantly, their fans.


...show their creators did not focus on possible roadblocks but building routes - sometimes literally - around them.


...make use of technical and creative freedom while tying all offers to what their fans know and love about them.
Have you had an idea while reading, or do any of these ideas shared especially spark your interest? Then go ahead and start brainstorming - the sky's the limit!