Looking back on 2020: Challenges, progress & a path forward.
Well… that was unexpected.
What a hell of a roller coaster we've been through, right? It seemed like we would never make it, but 2020 is finally coming to an end, and here we are, sort of dizzy, but still standing. As we step into a new decade at Convious we'd like to use this time to pause for a minute and reflect on these twelve crazy and unexpected months full of challenges and lessons learnt. Because this year has been like no other, debuting with the outbreak of a world-wide pandemic, followed by global anti-racism and climate-change protests, and ending with the voting out of president Donald Trump.
And in the midst of all those news flash headlines, plans were cancelled, health and stability were compromised, distance was imposed, social interactions were challenged, hundreds of thousands of jobs were lost, and the world was forced to finally bring its rapidly spinning wheel to a halt, forcing us all to re-evaluate the roles we play within it, both as companies and individuals.
Unarguably, 2020 has had a rough hit on all of us, and while these challenges haven't left anyone unaffected, the truth is, there have been certain communities and industries which have been hit harder by the black swan.
When Covid-19 struck through Asia, Europe and beyond, it brought the world's hospitality, food, retail, travel, and leisure industries to its knees, leaving them with no other choice but to reinvent themselves if they were to survive. And many of them did.
With a clear eye on the future, and their guests' safety and experience at heart, many of these companies brought their most creative side out to play, while investing in digital technologies in order to make a shift to the online world, and keep up with the key leisure trends that were reshaping the market; the most evident one being the boom of eCommerce.
Forced to transform such a high-touch economy into a contactless and risk-free one, the awareness around digitalising customer journeys within leisure started to grow. It was the beginning of a transformation for leisure venues and attractions.
From Convious, we made sure we could empower and support all those forward-thinking leisure owners and marketers who had their eye on the future by increasing our flexibility around our service and offering new agile and relevant features.

Let's take a quick look at some of the things we learned along the way:
Equipping those most threatened by COVID19 to rise above
When the pandemic stroke, crowds, rows and agglomeration became unacceptable due to health risks and regulations. Fines or even closure were at stake if leisure venues were unable to comply with the new rules, and offering a safe and predictable visitor spread became a top priority for leisure venues and attractions.
Unfortunately, for many venues this meant reducing their capacity to unprecedented low levels, which had a strong negative impact on their revenue. In addition, most leisure brands were not sufficiently equipped to properly manage their visitor spread and distribution, which is when Convious' disruptive Crowd Control technology came into play, changing the way leisure park owners and managers planned and forecasted their visitor distribution, avoiding overcrowding and unnecessary risks for their guests.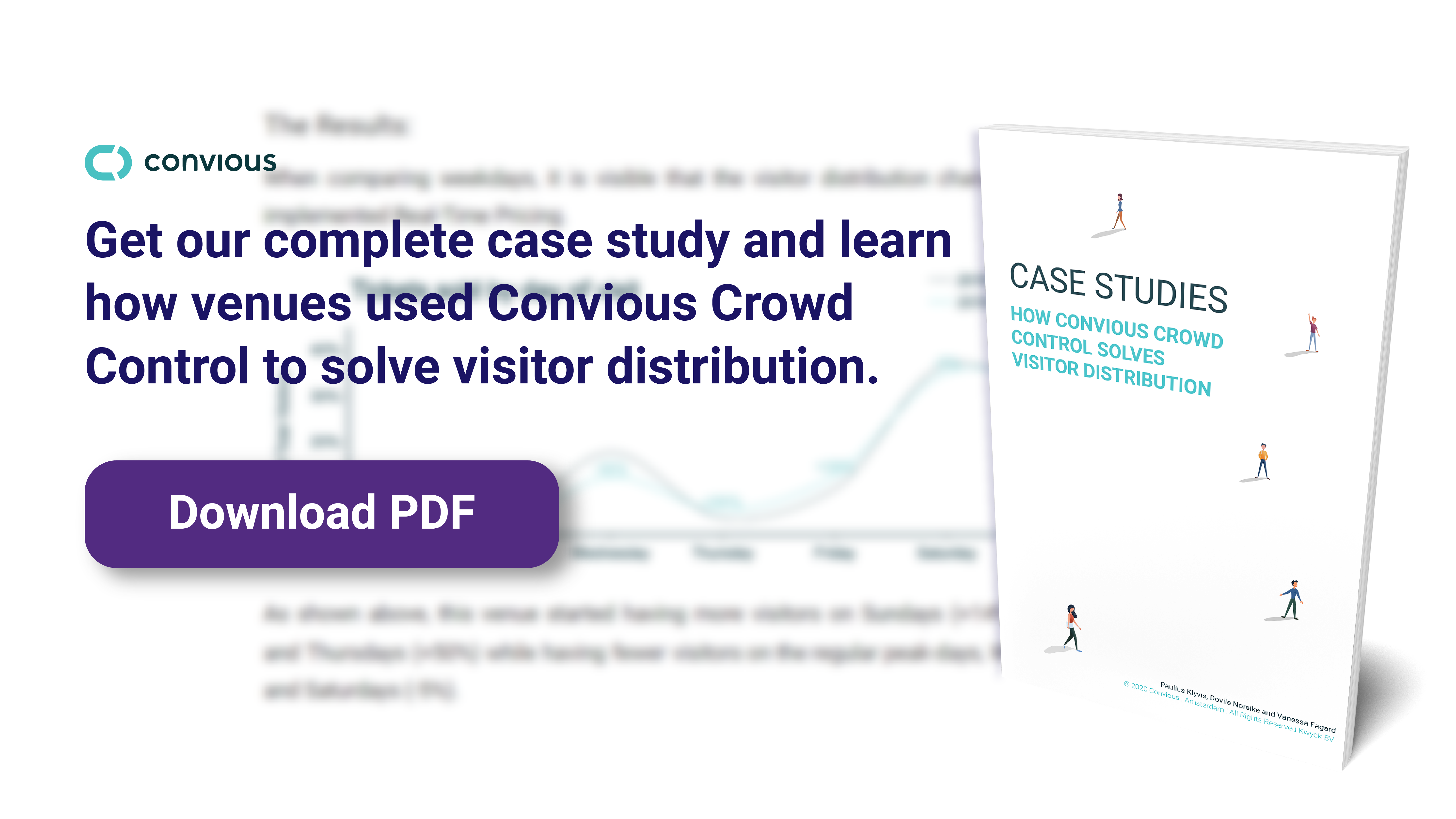 It was highly rewarding to see that, together with our partners, we had found the sweet spot between managing a safe visitor spread, while still maximising revenue. And to this day, we still celebrate the encouragement of more consistent and predictable purchase behaviour for our partners as one of this year 2020's key highlights.
Empowering leisure venues to become more independent and customer-centred
If there's one thing that has been made clear this year is that there are some things that not even a global pandemic can keep us from. And leisure is one of them. But only after being deprived of our usual social interactions and leisure time have we realised the vital role it plays in our overall well-being and sanity.
Related read: The role of leisure and wellness in this 'new normal' (and its benefits for venues)

Therefore, during these past months, we've had to completely reshape the way we experience leisure time. For instance, many of us at Convious found ourselves joining the "at home workouts" craze, having long-distance zoom drinks, or organising movie marathons with our quarantine mates. While on the other side of the spectrum, leisure venues and attractions worked against the clock to reinvent the way they offered leisure experiences, in order to slowly open-up again. This presented them with another great challenge: adapting to their guests' new fears and expectations, which have certainly changed for good after the surge of COVID19.
This led to changed behaviour in the public, and the need to get into their buyer's brain. Some of the ways that COVID19 shifted buyer behaviour included:
Increased online shopping
More omni-channel shopping and hopping from one device to another
Less purchases through resellers and an increase in direct sales that provided buyers with a higher degree of safety and guarantees


A combination of these and other factors within consumer behaviour gave way to a new opportunity within leisure: the rise of a direct-to-consumer eCommerce approach.
This slowly but steadily growing trend happened to be great news for the leisure industry, because selling more directly without having to depend on third party resellers gives back leisure venues the power to be in control: In control of their customer relationships, brand image, prices, experiences, channels and most important of all, in control of their customer data.
All of which are invaluable assets in a time where trust and a close bond between venue and customer is highly needed. By retrieving first-hand customer data and feedback that many leisure businesses had been missing out on due to their third-party dependencies, they could now understand and serve their customers much better, but more importantly, have the necessary tracking information to trace potential virus outbreaks as well as having a clear overview of who is coming when into their venue.
At Convious we have been strong advocates of #sellingmoredirect since the beginning of times, because we strongly believe in the great benefits that selling through owned channels entail for leisure venues, and we've been pleased to see that this particular year venues have finally started to demand what's theirs: their brand image, their service, their prices, and their customer relationships. Something that end consumers are already loving and that will only continue to expand, completely shaping the leisure and experience economy.
Immersive mobile app experiences, next-level personalisation or customer loyalty gamification strategies are just the beginning of the customer journey revolution that awaits in leisure.
Stronger together - the leisure industry joins forces
Although the path ahead of 2020 may feel uncertain, one thing has never been more true: The only way forward is together. We wouldn't have made it this far if it weren't for the amazing collaborative efforts and partnerships that have taken place this year, the same way that we committed to uplifting and empowering our partners in exchange. It is when we join forces and work together when we're at our best, play big, and overcome the toughest challenges.
What's next? That's only up to all of us.
This has been the year where the leisure industry has beautifully come together to seize the opportunities instead of seeing the limitations. We were agile. We embraced change. We pushed forward. And we learnt the hard way. We learnt a great deal, and we will keep on learning in the year to come to adapt and keep on serving the leisure market of the future by doing what we love the most. Creating memorable experiences.
Wishing you a bright year ahead,

The Convious Team 💙