Name Your Own Price just got a little better (and better)!
Wait! What? How is that possible?
That was our reaction when we saw the results of our new Name Your Own Price bidding model.
Let's take two steps back and answer the question that you are probably having if it is your first time around: What is Name Your Own Price?
Name Your Own Price 101
Name Your Own Price, or NYOP is an advanced online pricing strategy where venues give their online visitors and customers the ability to place a bid on the product or service they want to purchase.

Broken down, this is what it looks like:
1. The venue tells the user that they can bid for a product, in this case, an entry ticket.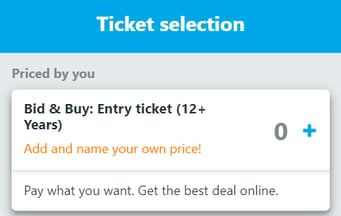 2. The user, as the name of the pricing strategy indicates, names his own price. He tells the venue "I am willing to pay up to X amount, let's say 12 Euro, to buy this ticket: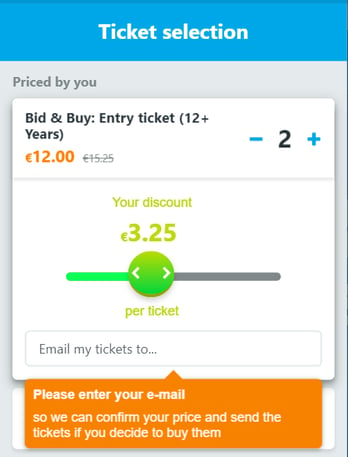 3. The venue accepts or declines the offer based on a range of prices previously established.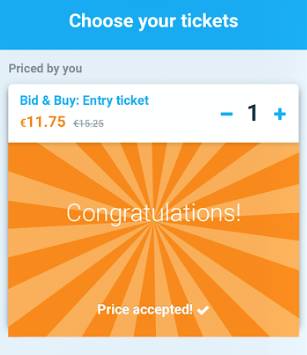 And as simple as that, if the price is accepted, an online transaction is made, creating a "win-win" situation: the customer pays what he feels like paying, and the venue makes a new online sale.
Still not using Name Your Own Price? Book a demo with one of our experts and see how it works!
How did it get better?
Here at Convious, we are all about helping our partners sell more directly from their websites. To do so, we support different pricing models such as static pricing, ruled based pricing, real-time pricing, and NYOP. Trust us when we say we are specialists in Dynamic Pricing, especially in the leisure industry.
Just as the pricing models we offer, our platform is DYNAMIC. What does this mean? We keep on working, testing and enhancing our software in order for our partners to grow better with the help of our AI-powered ticketing solution.
Let me bring Paul, our Chief Data Scientist to explain how NYOP has just gotten better:
"We have just rolled out a new counter-bidding model for all of our partners. Before the release, we ran an A/B experiment, which tested a new counter-bidding model performance against an old one.The overall results are the following:
The conversion rate uplift is 8.45%.
Revenue per bidder uplift is 9.73%.
The results above are overall and collected from all of our partners who are currently using out NYOP model".
Thanks, Paul! Those are great news, not only for us but also for our partners who trust Convious' platform to keep selling more online.
Let me wrap this up with just a small reminder: if you are using any software to help manage your business, make sure it is not static. A great platform should constantly evolve based on their users' feedback, data gathered, and testing to ensure they are delivering the best version possible to you.
Also, if Name Your Own Price is something you are interested in for your venue, one of our experts can help, just book a 30 min meeting and we can show you all about this feature.