How to use next-level personalisation to increase conversions
The COVID-19 pandemic is constantly driving unprecedented change across the world, and this persistent uncertainty is having a huge impact on consumer behaviour. This pandemic has accelerated the adoption of digital technologies and with the aim of meeting changing consumer needs, we all have gone online now; hence, eCommerce is booming.
Along with it, the online landscape is getting more competitive than ever. Consumers are encountering a wider choice of options from which to buy from, and this means brands must focus on the experience offered to their visitors and understand that requirements have changed.
Did you know that businesses that personalise web or app experiences see an average sales increase of 19% according to a marketing research by Marketingprofs? Sounds good, right? But, you are probably wondering what exactly personalisation is and if you already know, you possibly are thinking if personalisation is the right strategy to follow and how to implement it for your leisure venue. Well, let's see how this technique will help you boost your venue's conversion rates and retention.
What are personalisation strategies and how can they help your venue?
Personalisation is a marketing technique that customises and adapts the experience and communications based on information a company has learned and collected about an individual. Personalisation is in fact the best way to truly engage with existing clients as well as with prospects. According to a report by McKinsey, personalisation will be the prime driver of marketing success within five years.
This effective approach can take on many forms, such as recommended email, geo-location data requests, special discount codes, and many others, and it can be applied in almost any channel such as websites, mobile apps, emails, online ads, and so on.
Personalisation increases the relevance of your value proposition to your visitor, by speaking their language, matching their expectations, and addressing their unique fears, needs, and desires, which will drive an increase in your venue's conversions. In essence, it shows that you talk their talk and walk their walk. It fosters connection.
Don't confuse personalisation with segmentation; while segmentation attempts to bucket prospects into similar aggregate groups, personalisation represents the ultimate goal of customising the person's experience to their individual needs and desires based on in-depth information and insights about them.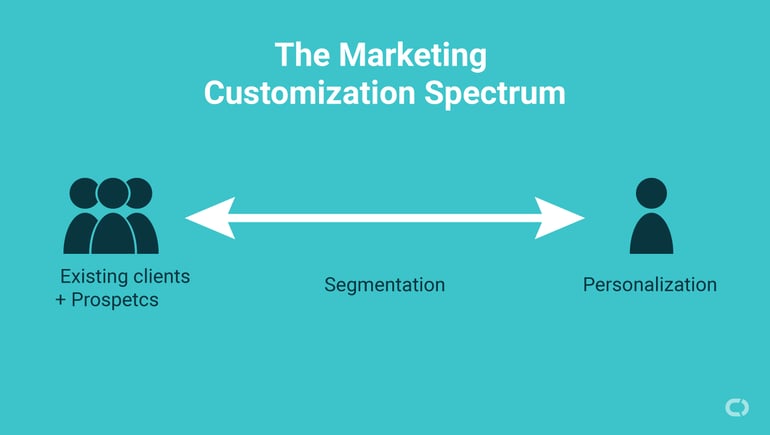 There are many personalisation levels, from using the buyer's name on the different communications to predicting what a consumer might like or need based on certain data and algorithms. Of course, the more accurate and anticipated the personalisation initiatives are, the more effective and powerful they will be. But bear in mind that this typically involves both machine learning and engines to ensure journeys are delivered intelligently, in real-time, and across all channels, and therefore, you need DATA. But, let me come back to this later.
Some powerful personalisation strategies:
Let's first have a look at some personalisation strategies that will help you improve your conversion and retention rates, before the purchase, during the experience, and even after the visit to your leisure venue.
Design a buyer journey-based personalisation
Having a general awareness of the desires along each phase of the journey of your customer can help you craft content to ease them along the funnel. If done right, you can accelerate the time taken to make a sale by giving them a delightful experience that makes them feel understood and valued. Creating personalised content is a great way to connect both with your current customers and with prospects. It demonstrates that you are ready to address their interests and needs, and it gives you the opportunity to provide a much more accurate and relevant value proposition.
For instance, by using an app, you can track locations and learn information about the user while in the venue, and then recommend specific attractions or locations to visit within the venue based on the customers' interests. You could also provide a virtual tour guide allowing them to learn at their own pace. Imagine how valuable could this be for your customers walking through your zoo, museum, or whichever venue you are into and learning about their favourite topics based on their interests. This real-time personalisation is a marker of what the future holds for in-venue personalisation and will help you convert additional purchases during their visit.

You might also want to read:
Guest-facing mobile apps: leisure's latest game changer
3 mobile technologies to improve your zoo's guest experience
Personalise the CTA's of your website, app, or even blog
Changing the sidebars of individual posts and pages is a simple but effective personalisation strategy to target a direct sale to a customer, but it is much more effective to work on personalised call to action push notifications. According to Hubspot, personalised Calls to Action Perform 202% Better Than Basic CTAs.
So, if a customer was checking the different ticket bundles that you have available, why don't you show the potential buyer a CTA with its favourite bundle? Based on the data from previous purchases, you probably know which days this client usually visits your venue as well as, which kind of ticket they usually buy (depending on the age, meals included, VIP passes, etc). If you were doubting whether to buy a ticket or not and all of a sudden you see your favourite pass ready to be bought by just clicking on it, wouldn't you be highly tempted?
Go extraordinarily visual
Have you ever heard about the "artworks personalisation" that Netflix uses? It is the recommendation made for each user of a particular picture to illustrate and recommend a movie. A specific algorithm chooses 1 picture among 9 possible and uses it as a visual decision aid for the user. Displaying the right image can make an item more attractive; in fact, 75-80% of all what is consumed on Netflix comes from recommendations indeed. Crazy right? Well, you can actually do the same!
Let's say your current objective for your leisure venue is to convert more on the food stands or restaurants that you have. Well, easy. Send each customer a push notification that says "I can hear your stomach growling from here... time to get some food? 🍔" along with a picture of their favourite meal right when lunch-time hits the clock and they will order it right away!
Don't forget about the customer's name.
I know it sounds basic, and you probably apply this approach in your daily marketing practices. As a matter of fact, a lot of customers are receiving emails from many companies on a daily basis. That's why you should go the extra mile to make them feel seen and heard.
Use their name not only at the beginning of the messages but also in the body of the messages. Customers will be surprised when they see their name used in an area where they were not expecting it. You can do this both on emails or app notifications. Be sure to have a good database, we don't want to call someone by another name, right?
Constantly adapt to the customer's behaviours, preferences, and values
Building a great brand is not only about creating a memorable logo or a consistent colour scheme. Your brand is the way your customers think and feel about your business, and when it comes to personalisation, it is essential to follow the conversations that are going on in order to understand them and their evolving wants. Social Media is a fantastic tool to track this.
By keeping up with what your customers post, comment, and share about your venue, you will find out so much about them and this will help you better adapt to everyone's preferences. Picking a hot topic that has got all the buzz and undertaking an opinion or providing insights will make them feel your brand understands them.
Imagine there are certain customers bringing up the topic of how good - or not so good - animals are fed at your zoo. Well, you could take this chance to make a post explaining the daily animals care routine at your venue as an answer to the issue. They will appreciate it very much and they will feel that your brand is paying attention to their concerns.
The only key that can open next-level personalisation for your venue is D2C
Those are some easy-to-implement and effective personalisation strategies. But, as I have mentioned before, the most crucial ingredient within the magic of nowaday's personalisation strategies is DATA.
If you want to carry out any worthwhile personalisation strategy, it is necessary to have a database with enough information about your customers. And, in order to have that, you need to be in control of your own customer relationships and data, which means that you need to follow a D2C strategy.
A direct-to-consumer eCommerce approach will allow you to take your products and services right to the buyer, without selling through a retailer, distributor, wholesaler, or other outlets.
Besides giving you back the control role you need over your own leisure business' rollercoaster, going D2C allows you to own first-hand customer data. When it's you who owns the customer relationship (and not the third party retailer) you get to use that data to really get to know who your customers are and drive growth to your leisure venue.
What's their favourite ride? What are the tickets they love buying the most? What's their wish list and purchase history? What times do they prefer to come? Which days?? The list goes on and on.
The main point here is thinking about all the different ways you could be using that information to create unique and personalised experiences and build a stronger bond with your guests. But if on the contrary, you have third-party resellers there is a lot of valuable information getting lost somewhere between you and your customers.
Check the related read "How going D2C can protect your brand from the pandemic" and learn more about how D2C is revolutionising the way businesses connect with their customers and capitalise on that bond to grow better.
So, in conclusion, bear in mind that personalisation strategies will help you stand out from the wider choice of products and services that buyers are encountering now due to the increase of online and eCommerce presence, and it will allow you to better engage and predict your customers' preferences due to a closer relationship and interaction with them, helping you make more accurate offers and increase conversion opportunities.
Remember, all you need is control over your own data.
Your leisure brand's fate should be in your hands and not anyone else's.