Navigating the wave of COVID19 2.0: Adapt to the latest shifts in buying behavior.
This year 2020 has made us abruptly wave goodbye to many things we previously took for granted: travel plans, social interactions, celebrations, jobs, routines, and in some cases, even our health, but allow me to add one more thing to that list, because you can now also wave goodbye to predictable customer journeys.
Inside your buyer's brain:
According to DigitalCommerce360, "recent studies reveal how dramatically consumer shopping habits have evolved over the past several months—and why the old normal of 2019 and the early months of 2020 is almost certainly gone for good".
What we am trying to say is that the linear and predictable customer journey as we knew it, no longer exists today.
Markets have clearly shifted, and along with them, its buyers' behaviours. The way people search and buy leisure experiences today is already far from the buying behaviours that were the norm just a year from now. Triggered by COVID-19 pandemic, our buying priorities, challenges and habits have shifted to unprecedented extents.
Which is why from Convious we have gathered some insights and data in order to bring to you the most notorious behavioural shifts in the leisure industry's customer journey so you can get inside your buyer's brain and keep up to date with the best ways to reach and influence your audience.
How has the COVID-19 scene shifted buyer behaviour?
1. People are buying much more online
It's no news that online shopping has gone through the roof this year. Along with many other businesses who have also undergone a rapid digital transformation, we've also seen an increasingly growing presence of the leisure industry in the online world, reinforced by COVID-19 pandemic's impact. At one point, it basically all came down to "go online or go home".

"58% of consumers expect to do more online shopping after the pandemic than they did before it, and 80% of business buyers surveyed expect to do more business purchasing online in the post-pandemic era, compared with the pre-pandemic period. - Salesforce Inc."
This pandemic has accelerated the adoption of digital technologies and experiences at triple the speed that was initially expected, and both consumers and businesses from all around the world have had to take a quick crash course in eCommerce, whether that was to do the grocery shopping or to open their first ever online shop.
The COVID-19 crisis has simply made the move to 'online' an imperative. Not only in order to comply with the measures enforced by the governments to reduce contact and virus widespread, but also as a way of adapting to a convenience that's now expected and demanded from customers moving forward.
"88% of customers expect companies of all kinds to accelerate digital initiatives due to the pandemic. Also, 68% said COVID-19 elevated their expectations of companies' digital capabilities, 61% expect to spend more time online after the pandemic than before it hit, and 60% said COVID-19 is changing their relationships with technology. - Salesforce Inc."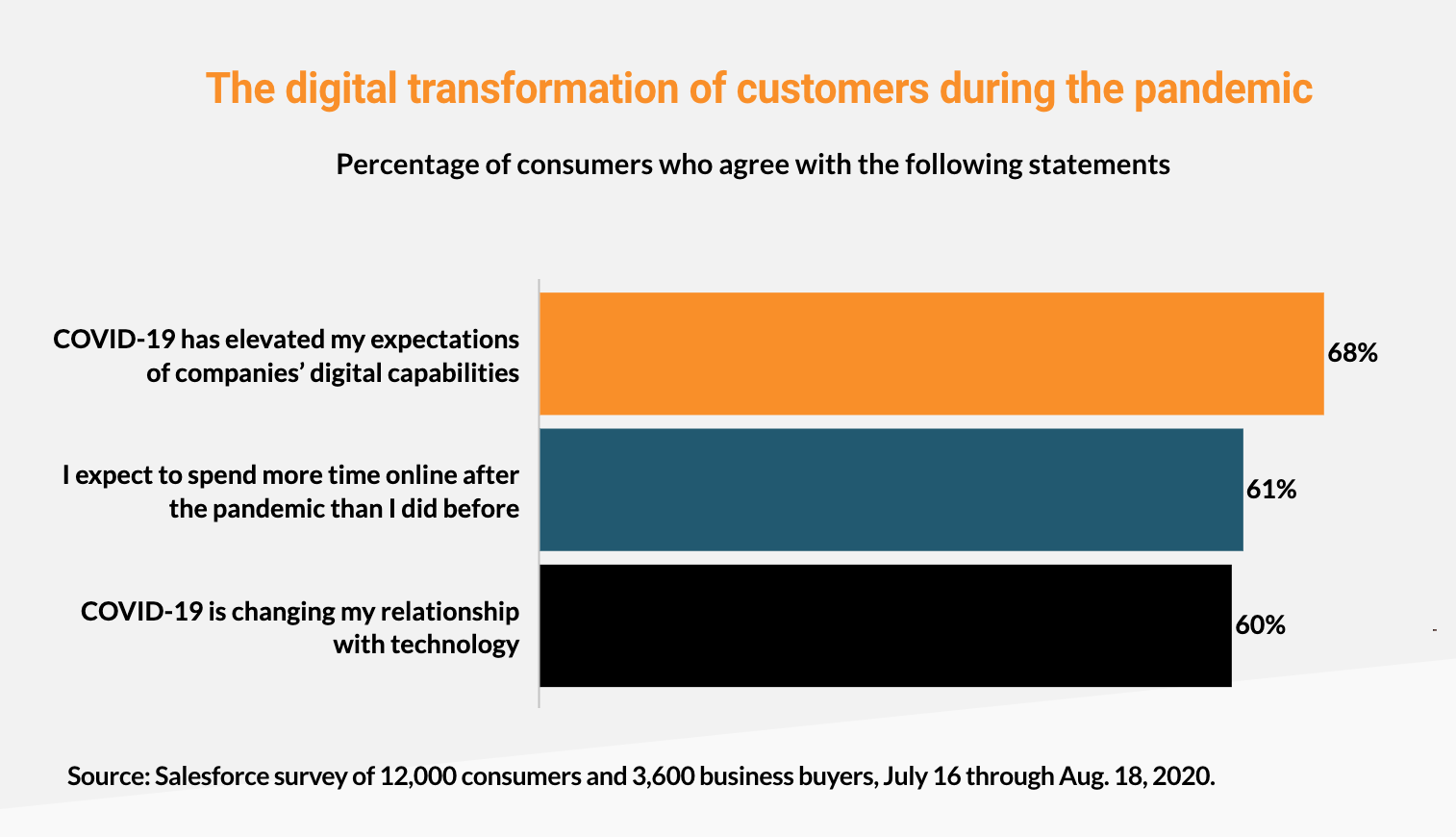 However, don't make the mistake of narrowing your online approach to just selling tickets online, because the leisure industry's digital transformation includes all-round digitalised experiences that go way further than that, such as mobile usage, with the underlying wish to extend leisure experiences beyond the boundaries of a venue's grounds - along with the demand for all-time access to online information and resources, as well as in-advanced online bookings and reservations that are here to stay.
Related read: Guest-facing mobile apps: Leisure's latest game-changer.
So, from the very beginning of the customer journey where your audience is searching for experiences online, to their in-venue visit enhanced by mobile technologies, as well as up until the post-visit experience once they've already walked out your venue's doors, you should be guiding them along every single one of these touch points.
Conclusion? eCommerce is not the future, eCommerce is now. The more stages of your customer journey you can bring - or at least combine - online, the better. It's where your audience is present and towards where their buying focus has shifted.
Related read: What is eCommerce and why should leisure venues care?
2. People are hopping from one channel to another

Despite the 'online' explosion, offline has not completely disappeared off the map. In fact, channel hopping is now the norm among most consumers, whether that's offline to online or vice versa. Did you know that up to 73% of shoppers use multiple channels throughout their buyer's journey? Meaning it is becoming increasingly more common to take an omni-channel and non-linear path to purchase.

We can break down any leisure customer journey into six crucial stages:

1. Awareness or inspiration
2. Consideration
3. Purchase/Booking
4. Pre-visit
5. Visit (in-venue)
6. Post-visit (loyalty)


At every stage, the customer will engage with different channels and experience hundreds of touch-points on a variety of devices.

Don't mistake a multichannel strategy with an omnichannel one however. Both approaches include multiple channels within their sales strategy, but the difference between the two resides in the fact that an omni-channel strategy has those channels working together in harmony in order to immerse consumers in a highly personalised experience that perfectly matches the stage of the buying journey they are in.
"Companies with omnichannel customer engagement strategies retain on average 89% of their customers, compared to 33% for companies with weak omnichannel strategies. - Aberdeen Group"
That's no surprise if we think about one of the main benefits of omnichannel strategies: creating deeper, more meaningful relationships with customers by using the data collected in each of the touch-points to personalise their experiences.
Conclusion? In today's channel-rich environment, implementing an omnichannel approach within your eCommerce strategy and fusing your physical and digital worlds together could help you drive engagement among your shoppers and provide them with a seamless multi-channel experience that will ultimately boost their loyalty towards your brand.
3. People are ditching the middle man and buying directly from leisure brands
Lastly, one of the main shifts in buying behaviour due to COVID-19 pandemic has been an increase in direct sales. People have started to increasingly buy directly from leisure businesses and brands, leaving out of the process resellers and middle-men.
The main reason for it has been the need for a higher feeling of certainty, as well as the trustworthiness that comes from being able to communicate directly with the brand rather than through a reseller.
And this happens to be great news for the leisure industry, because selling more directly comes with a great deal of benefits, the main one being that businesses get to be in control.
In control of what, you ask?
Well, in control of their customer relationships, brand image, prices, experiences, channels and most important of all, in control of their data.
Invaluable assets of feedback and information which many leisure businesses have been missing out on throughout these years due to their dependency on third party resellers.
Conclusion? No better time than now (when people are already looking to buy directly from your brand) to make that transition and stop depending on distributors and resellers which have you throw down your prices and lose the chance to create strong and direct bonds with your customers.
As opposed to your traditional way of selling where tactics are based on assumptions, now you can start capitalising on digital technologies and data to get a better sense of who your customers are and how they behave. As they touch different channels, you'll start learning more and more about them and their habits. With those insights, you will be able to better attract, connect, serve and convert your customers in the future.
So there you have them, three key buying behaviours that have experienced a notorious shift due to the pandemic and that you should keep in mind when reviewing and mapping out your customer journey in order to navigate the new wave of this pandemic moving forward.
If this is something you are currently struggling with or there is any other area of your leisure venue you would want some online expert support with, don't hesitate to reach out.
Our team is always happy to jump on a call and help you find the solutions that suit you best to overcome the current challenges.