RISE ABOVE COVID-19 2.0: how to digitise your venue from start to end series
DIGITALISATION SAVES THE DAY!
As Europe is still going through the COVID-19 pandemic, it's undeniable that this will add up to the severe impact that the pandemic has already had on our global economy. However, not every single outcome in this pandemic has been gloomy.
If turning on the news lately makes you feel like the world is coming to an end, allow me to shine a bit of light on your day by sharing some of the more positive things that are happening in the world, also as an outcome of this pandemic.
Just to name a few: A greater sense of community that has brought people (and businesses!) together despite the distance, more awareness on the impact of our accelerated lifestyles, a shift of focus on priorities (we are re-evaluating what is really important), as well as highly innovative businesses who have been able to reinvent themselves and thrive in such a rapidly changing environment, by adapting to changes that sooner or later were inevitably coming our way.
This pandemic has collectively forced us to rediscover our strengths, awaken our sense of creativity, and ultimately, grow through what we go through.
Take educational institutions world-wide, gyms, yoga centers, or even tourism departments, for instance. They have managed to keep serving their audiences by becoming remote.
Their mission hasn't changed, but their channel has:

- Gyms can still offer motivation and guidance on how to lead a healthy lifestyle and stay fit.
- Attraction parks can still offer fun and excitement.
- Aquariums can still offer an educational entertainment experience.
- Wellness centers can still offer guidance to people on how to improve their well-being.
But how?


By increasing their digital presence and digitising their offer. That has been the cornerstone of these businesses' survival in these times of great disruption, and it could be yours too.
This is the first pandemic that the world is experiencing after the creation of the internet, which has generated a world of possibilities by the hand of digitalisation.
So, now that Europe is still facing potential lockdowns, the question you should be asking yourself is: 'how much of my offering can be digitised?'. Depending on your venue's core activity, you might think there's not much to do regarding your business' digitalisation, but you'd be surprised.
Following up, you will find multiple ways you can digitise your offered experience before, during, and after it occurs, as well as a few original examples of how some businesses have taken advantage of the digital world in order to adapt to current times.


DIGITALIZATION BEFORE THE EXPERIENCE.
Mobile Integration
Your website is the very first place any tourist or prospective visitor will check-up on in order to decide if they are going to choose you to fill up their leisure time. Therefore, it is of vital importance that it remains up to date, fresh, and appealing to the eye.
But nowadays, more and more people (especially digital-savvy millennials and the Z generation) are making decisions more impulsively, on the spot, and through their phones rather than on a desktop device. So if your website is not mobile-first (or at least mobile-friendly), there's a big part of the cake you are missing out on. And now more than ever, you can't afford to be losing any customers.
Just think about a group of friends who are looking for ways to scape their monotonous routine. Do you think they are going to start their search on desktop?
No-uh. They are most likely going to reach into their pockets while laying in bed at night and make their next booking decision through their smartphones, after seeing an inspiring photo of an awesome venue in some cool dude's instagram account. Guaranteed. And if they find even the slightest usability inconvenience through the process, they will most likely give up on you. Thank you - next.
So make sure you have a mobile-first booking software in place so they can book your activities on their phones through a frictionless user-friendly experience or... risk losing a sale. Because with a simple flick of their thumb, they will most definitely scroll past you and move on to the next venue who can allow them a momentaneous booking with ease.
Booking software powered by Artificial Intelligence
And since we are talking about booking software, let me ask you: how smart is yours?
Enabling your visitors to buy your tickets up-front and pay online will definitely help you reduce the risk of physical transactions in your venue and, therefore, will also minimise the risk of contagion.
Because after all, we also still have to consider post-COVID-19 measures. But, back to the point: we're living in the year 2021, and your booking system should be able to do much more than that for you, don't you think?
With an A.I powered booking system you can:
Personalise your customer journey and tailor your offering depending on your customer's behavioural patterns, historical data, past purchases, location, and so on. For example, offer them smart upsells that complement or complete their chosen experience at the end of the purchasing process.


Optimize your pricing strategy

.

With the use of smart algorithms and machine learning, the system can use the gathered data to price your products and activities in a flexible way that adapts to the market's ever-changing conditions. People are price-sensitive, and depending on the market's circumstances their perceived value of a product can vary, so the implementation of dynamic pricing is a great way to influence their demand, especially in times like these, where the market is experiencing brutal and rapid changes on demand and supply due to the coronavirus pandemic.

Automate your visitor spread

.

The COVID-19 crisis has changed the world overnight and has forced all industries to comply with new safety guidelines and regulations, with social-distancing being one of the most essential. Ensure a social-distant proof environment in your venue by having an adequate visitor distribution.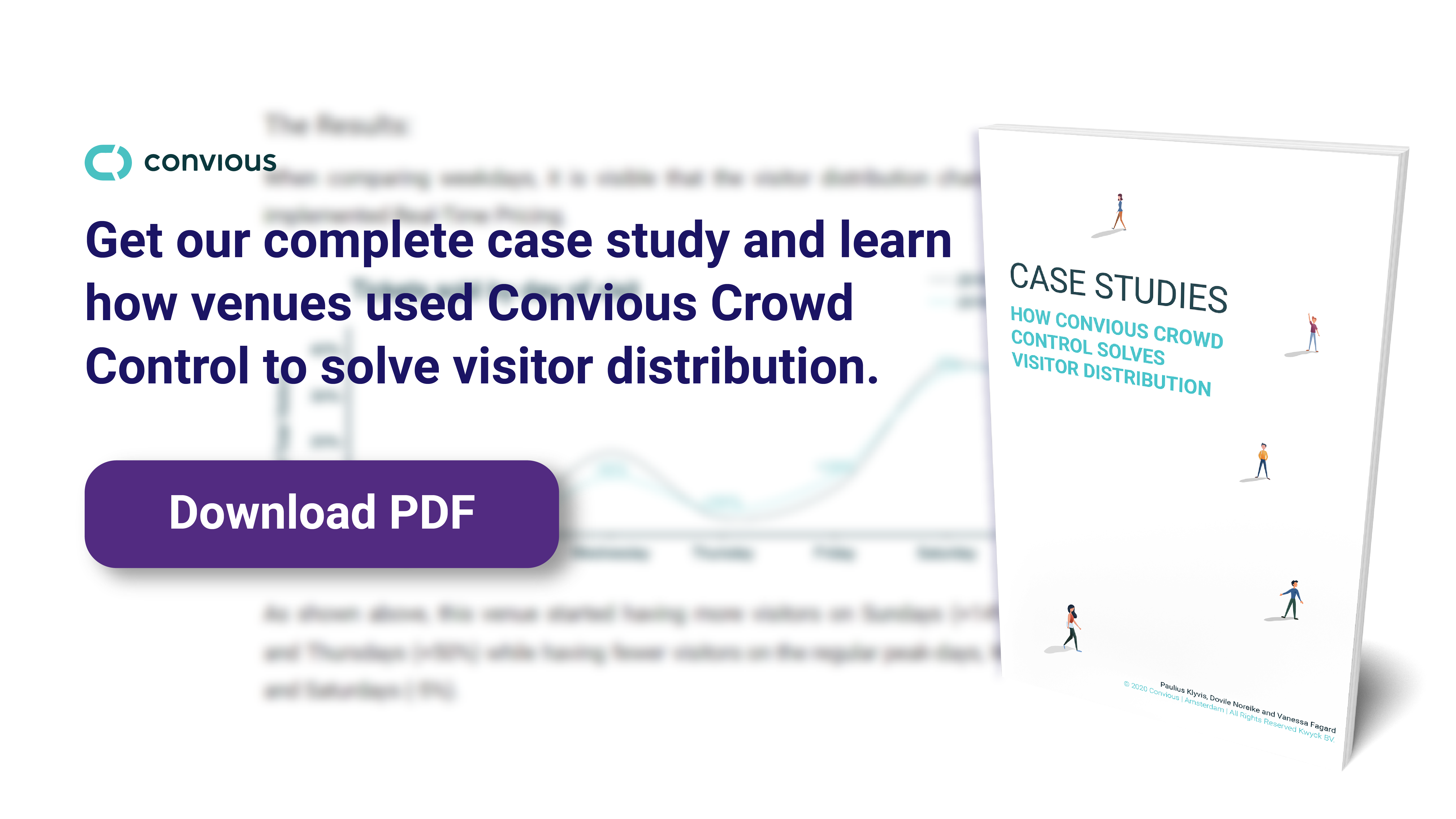 Thanks to digitalization, you won't have to manage that distribution manually since you can choose to automate your capacity planning based on time-slots optimized by artificial intelligence and, in addition, ensure you have a controlled overview of your visitor forecast so you can adapt accordingly in a timely manner.
Related read: Why are time-slots here to stay for the leisure industry?
A digital and automated approach to visitor spread management, crowd predictions, and crowd insights will increase your efficiency when it comes to avoiding overcrowding in your venue and keeping your visitors safe.

Manage your visitors' expectations with ongoing and updated communications.
In times like these, you should not leave any gaps for uncertainty, doubt, or misinformation. On the contrary, your website should be equipped with digital tools that support an up to date and crystal clear communication. By communicating clearly what your visitors can expect from you, you are increasing your audience's trust in you and strengthening your relationship with them. Whereas providing outdated, incomplete, or misleading information can take a big toll on your brand's image and trustworthiness.
Today with AI-powered applications and other digital tools, it's at the reach of any online business to enable visitors to access the information they need at any time.
Think about incorporating AI-powered chatbots, for instance. Without your employees needing to do 24h shifts, through an automated chatbot system, you can still make reservations, booking changes, and solve customers' queries and problems at any given moment.
Or what about using data-driven trigger buttons, pop-ups, and WonderBars? These easy-to-use digital engagement tools are not only useful in order to increase your website's conversion rates, but can also be of great help when it comes to communicating last-minute news or changes in your venue.

Use them to…
Redirect them to landing pages with the latest COVID-19 updates regarding your venue.
Communicate your latest deals and offers along with product recommendations.
Remind them of safety measures.
Showcase additional information regarding your venue such as new opening times, time-slot reservations, ride closure due to maintenance issues, etc.

BENEFITS SUMMARY: Overall, the implementation of these above-mentioned digital tools can help you increase your conversion in up-front bookings, better manage your crowd control and visitor capacity, as well as to build a more trusting relationship with your customer base, which will all result in improved customer experience and more efficient booking management.




Part II -

DURING THE EXPERIENCE

This is the second part of the RISE ABOVE COVID-19: how to digitize your venue from beginning to end series.
In the first part, you asked yourself: how much of my offering can be digitized? To give this thought proper consideration, we talked about mobile integrations, booking software powered by Artificial Intelligence, digital expectation management, and updated as well as continuous communication. All with the benefits of increasing your conversion of up-front bookings, managing your crowd control and visitor capacity, and building a more trusting relationship with your customer base.

In this second part, we discuss multiple ways you can digitize your offer during the experience itself by showcasing a few original examples of how some businesses have already taken great advantage of the digital world and adapted successfully to current times.
DIGITALIZATION DURING THE EXPERIENCE
Hopefully we don't have to put away the champagne and party-poppers too long before we can celebrate your venue's doors reopening to the public. Especially because that will also be the time when your main revenue stream starts to flow again, and with the high fixed costs that are inherent to any leisure venue, god knows what a breath of fresh air that would be!


So, in order to minimise your revenue loss, you could offer flex (or open-dated) tickets at a cheaper price to encourage your audience to make in-advance purchases and bookings. Take any holidays or celebrations as an opportunity to offer gift card options for instance. That will give them something to look forward to that they can enjoy with someone they love once your venue grounds are open again.
But what about the experience itself? How will you keep your world of magic and wonder alive for them?
Depending on what type of experience your venue offers (if you are a gym, a yoga studio, a museum, an educational institution, etc.) perhaps you have been able to digitise this experience and put a price on it during this time of cease. But if - like the grand majority of businesses - this is not your case, in the meantime, you can still use this halt to generate hype and boost your venue's promotion through virtual reality or other types of remote online experiences.


With COVID-19 making an appearance in our lives, we have also experienced a substantial rise of free cultural and entertainment experiences that have helped people discover the world beyond the walls of their home without actually having to leave it.


Here are some inspiring examples:
Faroe Islands'

remote tourism campaign:

They had the idea to allow people anywhere in the world to explore their islands as virtual tourists through the eyes of a local.


The Heritage Concierge's WhatsApp Quarantine Lifestyle Special Edition: A user-friendly interactive document that links you directly to the page of the virtual/online event or venue of multiple industries such as travel, fitness, wellness, online classes, interactive apps, mindfulness practices, read-ons, culture, museums and so on. With this on your phone, there will never be a dull moment during your quarantine!


Disney Land's

#

DisneyMagicMoments:

Virtual viewings of some of Disney's best live light and illumination shows.

Although all of these are offered for free and therefore are designed purely for promotion and with a hope to reinforce their brands and attract new future visitors, that doesn't mean that the same technology couldn't be used to organise profit-driven virtual tours, and generating revenue from people who might never be able to come for a real visit or who might enjoy a "try before buy" experience.


So ask yourself, how could you recreate your venue's experience for those who have had to cancel or postpone their visit, or for anyone else stuck in isolation around the world? Because there is a good chance that a big part of your usual offline experience can be digitised and brought to live online.


For example, if you are…

An aquarium or zoo? Be inspired by Faroe's Islands example! Put a go-pro in one of your divers and offer an interactive virtual dive-in experience (literally speaking) to the shark tank or some of your other most popular fish species. Add value to your paid virtual experience by letting viewers not only feel the closeness of the marine life through the lens, but perhaps also letting them have a say on the diver's actions, having a live chat where viewers can share thoughts and feelings about what they are experiencing, or have one of your marine experts give an informative explanation with interesting facts about the different fish species shown.


Check these live examples of narrated feedings of Monterey Bay Aquarium, Georgia Aquarium's live webcams, or the one's in San Diego's Zoo.


A museum?
A wide range of museums world-wide (The Vatican museum, the Louvre in Paris, Amsterdam's Rijksmuseum, Frida Kahlo's museum in Mexico, London's British Museum or its Tate Modern, New York's metropolitan museum, Madrid's Prado and many more) are all offering parts of their collections and exhibitions online! Why not allow your audience to have access to the same experience in exchange for a donation?

A Wellness-Center?
With millions stuck at home, the wellness industry is still booming. Fitness, skin-routines, meditation, or how to apply specific treatments at home can all be taught remotely. Then why not organise online paid retreats or classes for your usual customer-base where you can show them how to apply your products (which they can later shop online), or the best practices and DIY treatments for things like reducing anxiety and stress, clearing and revitalising their skin, improving body movement, or even sleep!? You could create package deals that include online classes and retreats in combination with in-venue treatments and services that they can redeem in the near future, once your wellness center opens up again.


No matter what your core activity is within the industry, as long as you can extract the captivating, educational and unique part out of the experience you offer, people will be willing to pay for that added value and exclusivity online.
BENEFITS SUMMARY: Basically, we are beginning to see how leisure companies are using virtual tours and virtual reality applications to branch out and offer customers something different they haven't experienced before. Digitizing your experience and transforming it to its remote format can enable you to boost your promotion, amplify your reach and enhance your audience's engagement and participation from their own homes.

Part II

I - DIGITALISATION AFTER THE EXPERIENCE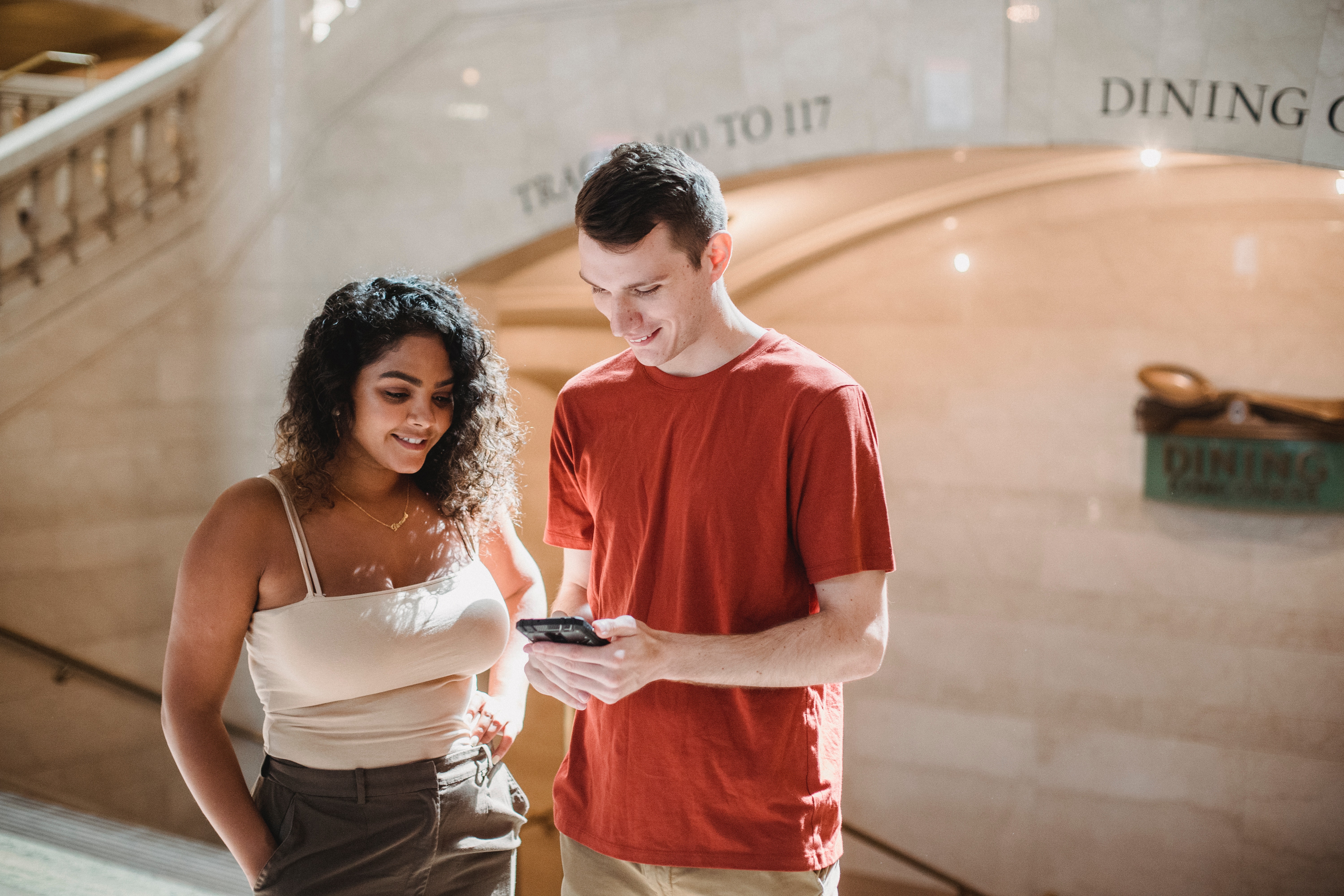 We have arrived at part 3 of the RISE ABOVE COVID-19: how to digitise your venue from beginning to end series.

After covering multiple creative and innovative ways to digitise your offer before and during the experience, it is now time to have a look at what you can do to extend your experience further. Digitising after-event efforts will allow you to stretch your experience over time and channels, even after your visitor has gone to your venue, and this, as you will discover, has countless benefits.
One thing is clear: the relationship with your visitors should not come to an end the moment they walk out your venue door!

With the appropriate digital tools and data, you have a great opportunity to keep on nurturing and strengthening that relationship long after their visit has come to an end.
Through the digitalisation of your customer retention and loyalty strategies, you can gather data and feedback more efficiently via post-event notification e-mails or visitor feedback surveys.
But how exactly can you use these to your advantage? Here are a few examples:
Ask them to rate their last visit to your venue.
Ask them to leave a review.
Give them an RSS link to easily share their experience on your website or social media.
Inform them about the upcoming offerings, deals, and events.
Introduce a referral program/code.
Invite them to participate in a raffle, draw, or competition.
BENEFITS SUMMARY: All of these initiatives will hugely help you to increase their engagement and, therefore, also the chances of them coming back to your venue. But more importantly, you will be able to track their level of interaction and qualify them as a lead through the collected data. This will allow you to extract valuable lessons and points for improvement so you can always work towards upgrading experiences.
. . .
ALL IN ONE: BEFORE - DURING - AFTER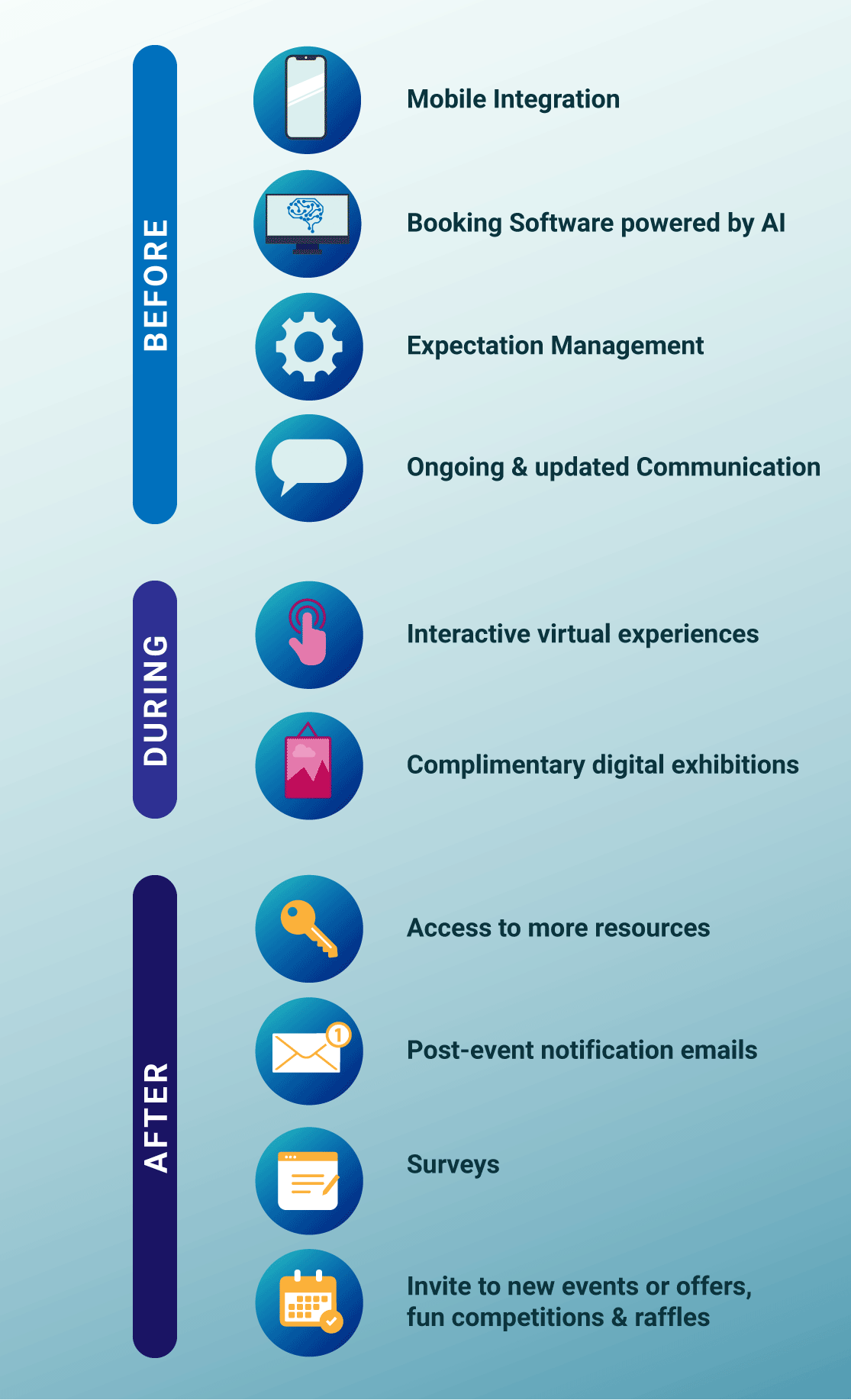 . . .

This new reality that the experience economy is currently facing has clearly accelerated the need for businesses, that are not - and have never been - online to find new approaches and channels to serve their audiences through digitalisation. Everything seems to the point that they will only keep moving forward in that direction.
Our solution has already helped more than 50 venues within the tours and activities sector to digitise their offer and increase their online presence, enabling them to generate positive results and increase their revenue by selling more direct online.