The problem with channels in leisure
Filling up a venue every day, day in, and day out is hard work. Many leisure venues like theme parks, thermal baths, zoos, or aquariums used to be very dependent on external marketing channels like SocialDeal, Groupon, Expedia, TripAdvisor, or GetYourGuide for ticket sales.
These channels are really good at selling tickets in high volume, but this comes at a price of high discounts and high fees. Is that a fair trade and is that the only downside?
COVID-19 made online sales rise 600%
The pandemic forced consumers to reserve before their visit and that changed the leisure world significantly. Many venues stopped their channel activities. As it appears, even now consumers come directly to the site, buy and reserve. With many of our partners, we saw an increase in website traffic of over 50%, but here is the interesting part; online sales increased up to 600%.
This is due to a shift in channels as it is no longer possible to buy tickets at the gate or via channel partners. You might wonder; "Why didn't traffic go up by 600%?" Maybe these website visitors were already coming to these websites, but just didn't convert, and now they do. That is interesting because it looks like it confirms the following:
The direct sales journey is broken.
Imagine a family that wants to go to your venue. Their online journey starts with Google and ends up on your website. Your well-known brand makes them want to visit your site first, while they skip the other search results. Some advertisers try to disguise their ads as yours and they might trick some consumers to click. Once on your website, they look at your prices.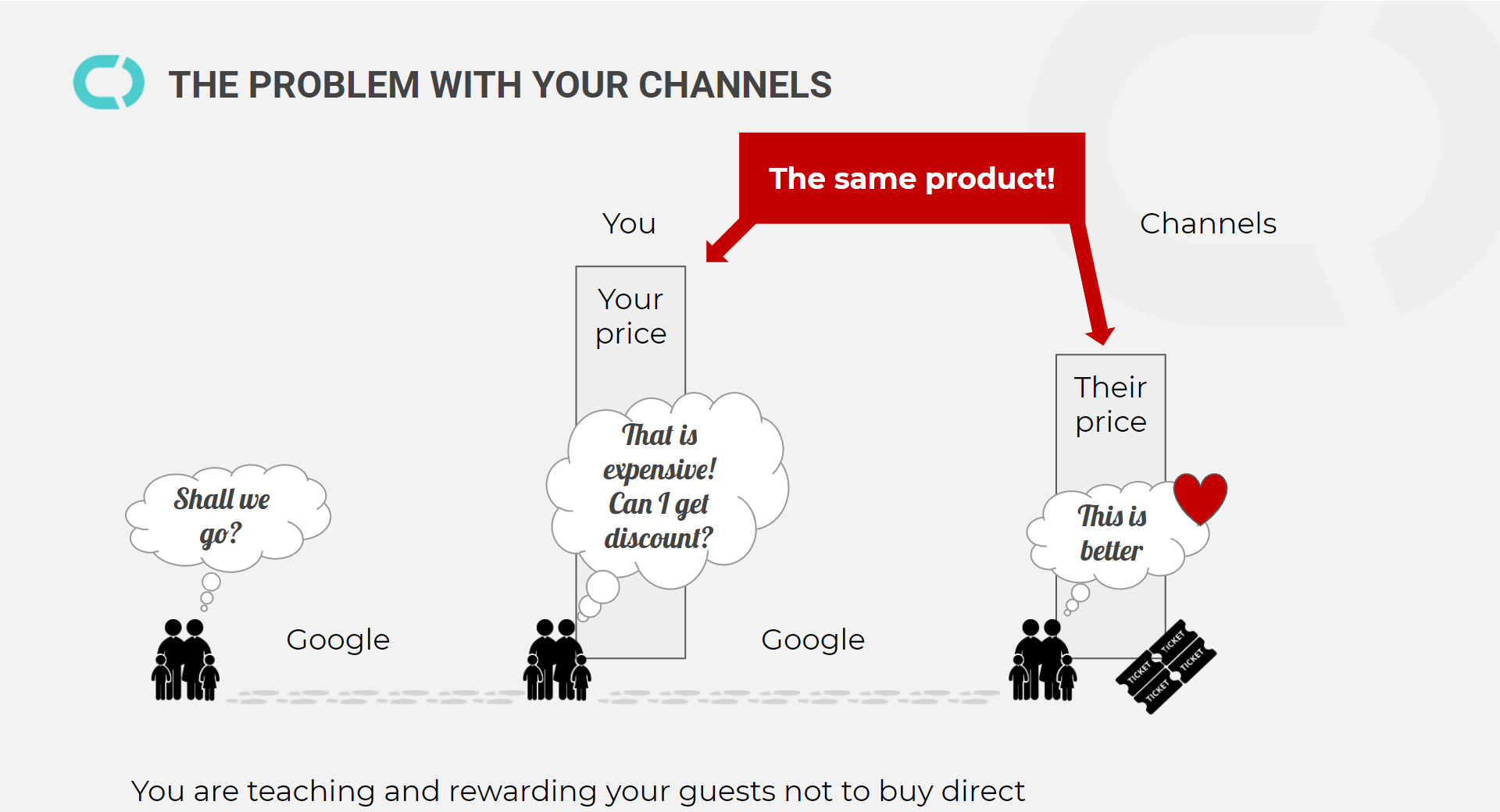 A nice day out for a family can cost over €100, so consumers are eager to find bargains. After some more googling they find channel websites with better prices for exactly the same ticket. So that is where they buy, and that is where their love goes. Your website will be perceived as expensive. In this case, you are teaching and rewarding your guests not to buy direct.
The indirect sales journey is also broken.
Now, some of you might say, "the great thing about these websites that sell tickets for me, is that they can reach consumers that we can't reach ourselves. They create demand for my product!".
This is true, but there is something else going on as well.
Imagine a family has no idea what to do. But then they see an ad or email from one of your sales partners with a special deal. They like the idea and start their online journey by clicking on the ad or on the link in the email. They end up at a special offer with a special price. For a family, this day out is still costly, so they google a bit to see if the price really is a good offer. Of course, they take a look at your website.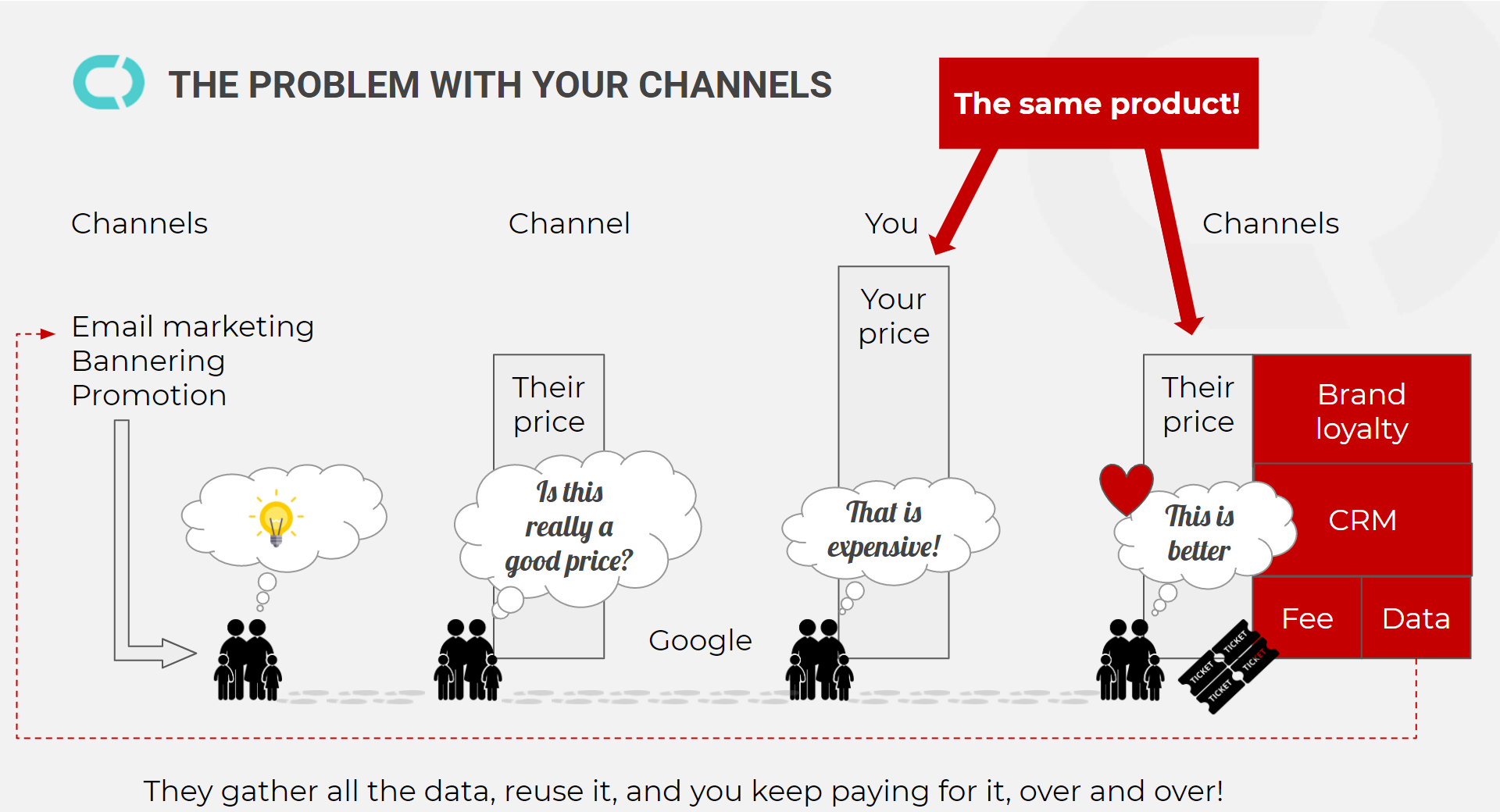 In this case they will see your higher prices and run back to their starting point. They will buy their tickets at discounted prices from your sales partners. Again this is where their love goes.
These channels build strong brand loyalty by selling your tickets cheap. They build profiles by collecting data that will be used in advertising and email marketing, starting the cycle again. They gather all the data, reuse it and you keep paying for it, over and over. This is why you didn't see an increase of traffic of 600% although many many families might have already visited your site.


More trouble ahead:
Another real problem of selling indirectly is that tickets are undated. This means it is very hard to predict how many people will come today with tens of thousands of tickets sold in the market. Corona made life easier now that pre-bookings and reservations are mandatory. This gives you much more insight and allows you to prepare for the day.
Still, all these discounted tickets might fill up your venue, preventing other guests who are willing to pay full price to buy tickets for that day. So now it hurts via discounts and fees and also on missed revenue.
How to solve this:
Companies like Groupon, Google, TripAdvisor, and Expedia use advanced marketing machines that know exactly how to use data to their advantage. They use sophisticated algorithms to target the right audience at the right moment with the right offer. While doing so, they compete with your own marketing efforts. Their advanced marketing machines will always outperform your manual marketing attempts. Your main weapon that remains is your brand.
1. One solution could be to decrease your prices, hoping that consumers will prefer to buy direct and from your brand. This will put a strain on average order value and average ticket price.

Large channel websites tend to demand the lowest price guarantee, so you are forced to match these prices, and you can't go lower. In the end, lowering prices is the final resort as it also lowers the perceived value of your service. This eventually is just a race to
the bottom.
2. Another one is to stop using these channel websites for ticket sales. But then the volume drops which leads to slow days in the venue and low revenues.
3. The real solution, however, is to have your own advanced marketing machine that uses your data in an intelligent way. Then you could convert your website visitors into buyers. You would collect data, and you could use that in advertising and email marketing yourself. You would be able to sell at the right price at the right time. You could still use external channels to sell tickets, but the focus would be to sell direct.



Benefits of having your own advanced marketing machine:
You have more control over your pricing and discounting. This will result in a higher average ticket price, fewer discounts and fewer fees to third parties.
If you are able to boost conversion from website visitors to sales at the right price, the share of direct sales will increase, reducing the dependency on external channels. This will strengthen your marketing power and allow you to sell more at lower costs.
So, what do you think?
We are very curious about how you see this issue and very open to feedback, so we would love your view on this matter! Let us know, and if there is anything we can support you with, don't hesitate to contact our team of experts.