The Ultimate Guide to ITB Berlin 2019
It's the ITB time of the year!
This March, the world's leading companies from the leisure and hospitality sector will come together in Berlin to join the industry's biggest and most important event. So if you want to stay on top of the game and in line with the latest trends, you need to be there. We will for sure.
Year after year, the ITB events attract guests and participants from a great variety of background fields. This means that you are guaranteed to meet professionals from your very area of expertise, but also find out about products and solutions you've never heard of before. This is your chance to both, share knowledge and learn new things about different areas of your business.
Take Convious as an example. There's a big chance you haven't heard of us yet, but you might truly benefit from our smart online tools. If you run a venue, our solution can help you engage with your online visitors and sell more tickets directly from your website! All that, while making sure that both, your customers' expectations and your business goals are met.
The ITB Trade Fair is the perfect place to gain a comprehensive perspective on the leisure sector and maximise all your efforts in taking your business to a whole new level. So whether you're a first-time goer or an ITB veteran, it's a must-attend show.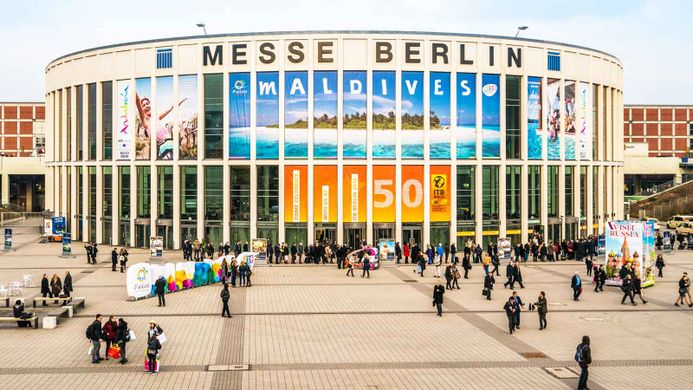 In this post, we will share some insider's tips and tricks that will help you make it a successful and enjoyable experience.
2019 edition and what to expect:
Innovative trends, newest research, & 10.000 exhibitors of the hospitality industry all included in one ticket!


The leisure sector is changing more rapidly than ever before. Its complex dynamic is being heavily influenced by a growing number of factors, with technological evolution and social impact taking a great part of the scene. Needless to say that it has become extremely challenging to keep a successful business in this highly competitive industry. The ITB Berlin Trade Fair will provide you with a thorough analysis of the latest market trends and give you examples of some of the best practices. But you need to know where to look!
The complete program of the event is available online, and you can find all its details here. We suggest that you really pay attention and do your research up front. This way you will stay focused on what's important for your business and its bright future on the market.
Here are some worthy highlights that you might want to check out.
Learn from the best!
Meet the top speakers of ITB Berlin 2019:
This year's schedule is full of experts of the hospitality and travel industry from all over the world. It is impossible to see all of them, so you have to choose wisely to make sure you don't miss the topics that are relevant to your business. If you're looking for suggestions, the short list below contains some of the most remarkable speakers of the convention.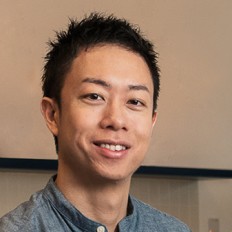 Eric Gnock Fah
Eric is the COO & Co-Founder of Klook Travel, one of the most important upcoming companies in the industry. On the first day of ITB Future Day he will be giving an inspiring talk on the Tours, Technology, and Activities segment with a special focus on the huge potential of creating tailored experiences for online audiences and how to overcome the technological challenges.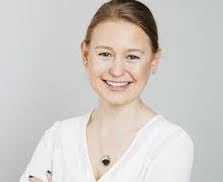 Sally Davey

Sally Davey is a vastly experienced collaborator. The Global Director of Industry Relations at Tripadvisor will be holding a stimulating conference on The Power of Community - More Important than ever before at the E-Travel lab on Friday. Like no one else, Sally Davey can create fantastic opportunities for (new) destinations, local communities and businesses that serve them. She's incredibly skilled in creating unique products and connecting a variety of business owners within the tourism sector. You can really learn a lot from her!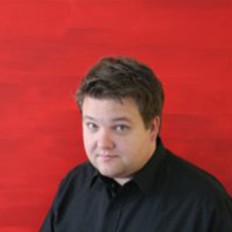 André Morys
The CEO and Founder of konversionsKRAFT will be talking about The source of disruption being in the mind of the customer and The power of conversion on the first day of ITB. After analyzing a great number of organizations, André has discovered a universal principle behind the expansion of all the fast-growing companies. He knows A LOT about the optimization processes and considers it a strategic topic in every organization that wants to grow. If you're hungry for success, André Morys is a MUST-SEE speaker this year.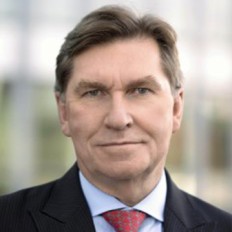 Chris Cahill
Chris is the CEO of Accor Hotel's Luxury Brands and one of the biggest personalities in the hospitality industry. Responsible for the Hotel Operations, Chris has tons of valuable insights and outsights when it comes to hotels and their future form.
Do you ever think about the forthcoming hotel products and future hotel distribution? Or about the extent of digitalization and the role it will play in the market? Then you can't miss the Hospitality CEO Panel during which Chris, alongside other top executives, will be sharing his knowledge and discussing best strategies and upcoming trends of the hospitality industry.
But let's start at the beginning, shall we?
We promised you the survival guide and we always keep our word. Read on!


what: ITB Berlin Trade Show
when: 6-10 March 2019
where: Exhibition Centre (Messedamm 22)
This seems pretty straight forward, but if you're a newbie to the ITB there are some details you should keep in mind. That is why the Convious team has put together a short guide with the most relevant tips and information that will help you rock this year's edition!
PART 1: SURVIVING ITB
Although it's a 5-day event, all the business deals will be made within the first two days. Friday is usually the day when the biggest and most prominent executives are packing their bags and getting ready to go back home. It is also the day when the so-called general public starts flooding the ITB venue, so if that's your main target group make sure you're ready to serve them.
#1: Plan, prepare, pre-schedule!
Good organisation is the key. It is also important that you set clear goals for yourself. You can think of a number of deals you would like to close or new business partners you want to bring in. The details are up to you, but we know from experience that the higher ambition, the greater success.
There's A LOT going on during the ITB and you need to be really precise if you don't want to lose your head. Or worse, lose an opportunity. Check out the event search section on the official ITB Berlin page for inspiration. You will find useful information guides about the catering, transportation or maps of the Exhibition Grounds to easily find the conference rooms.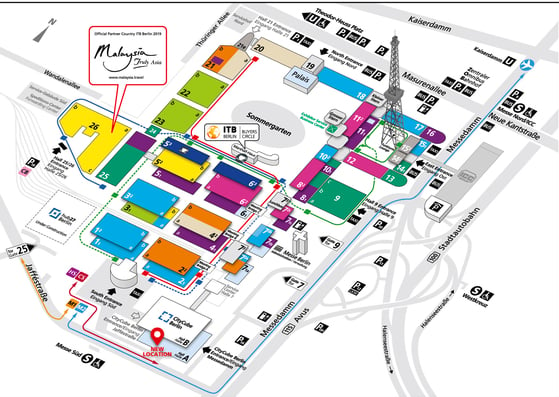 Once you realise how long it can take to get from one place to another, you will really thank yourself for planning your time between the meetings and events. ITB venue is truly immense and 20 minutes walk from one location to another is something you should really take into your consideration.
Our TIP! One of the best halls to get the tastiest food is the Asia Hall. Moreover, it holds Malaysia's stand, this year's ITB Official Partner Country. However, hall 2.2 is just as attractive, specially because you can find the huge Emirates Airline stand there, which draws all the crowds with its crazy, innovative and luxurious products. In the end, how often can you enjoy the first class seat experience of flying with Emirates Airlines?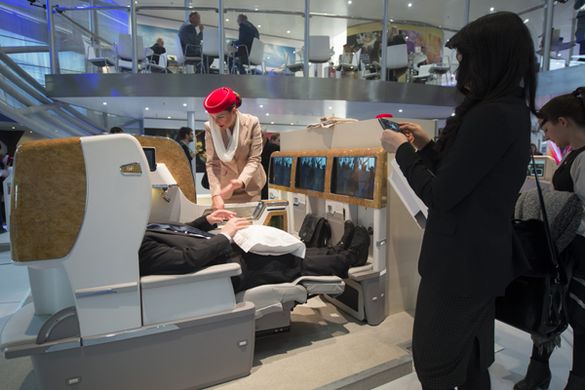 #2: Network like a PRO!
ITB Berlin is an exceptional opportunity to create valuable connections and build a good network. The thing to keep in mind is that the event holds over 160.000 people from all over the world and all of them will have super tight agendas. Big chance is they might not be able to find the time for you on the spot, so you need to do your research and schedule your meetings in advance. Here's how to do it right:
(!) Be specific when giving time and location! Some of the halls have up to 3 different levels, which actually makes it 3 different halls! If you don't mention the exact place, level or corner of the venue, you might risk losing your meeting time.
(!) Always make sure to have all the contact details of the person you're going to meet with and that they have yours. It's obvious as this sounds, but we've seen things going wrong because of the lack of direct contact and it doesn't look pretty.
(!) Ideally, make a reservation in a place with a quiet and nice atmosphere. People will really appreciate your efforts. You would too :)
(!) Don't plan your meetings back-to-back. Always leave a considerable margin of time between your appointments. You'll thank us later for this.
(!) And DON'T plan any meetings before 10 am. It just won't happen. Ever.
Our TIP! Check out the ITB Berlin's Virtual Market Place where you can log in as a visitor or as an exhibitor and create your own profile. Leave your personal info and let others know what you're looking for or what you have to offer. And since you're at it, meet the Convious team: Bernard, Malte and Ronnie.
Update! While you're at it, we suggest you also take a look to the latest ITB app, which you can download for free both in Apple Store and Google Play. You can refresh data regularly and it is the best way to be up to date with all the events, exhibitors, floor plans, and all sorts of information regarding the ITB Berlin services. You can even create your own "MyITB" profile where you'll be able to save your favorite exhibitors and events, all in one place!
#3: Move around with ease: the transport and storage services
One of the best ways to get from point A to B in Berlin is public transport. You can easily get a metro (U-Bahn) card at ticket machines on subway platforms or you could even ask for it in your hotel lobby. Busses and the tram (or S-Bahn) are also great ways to move around and they have very good connections. You will avoid traffic jams and most of the times it'll be quicker than getting a taxi.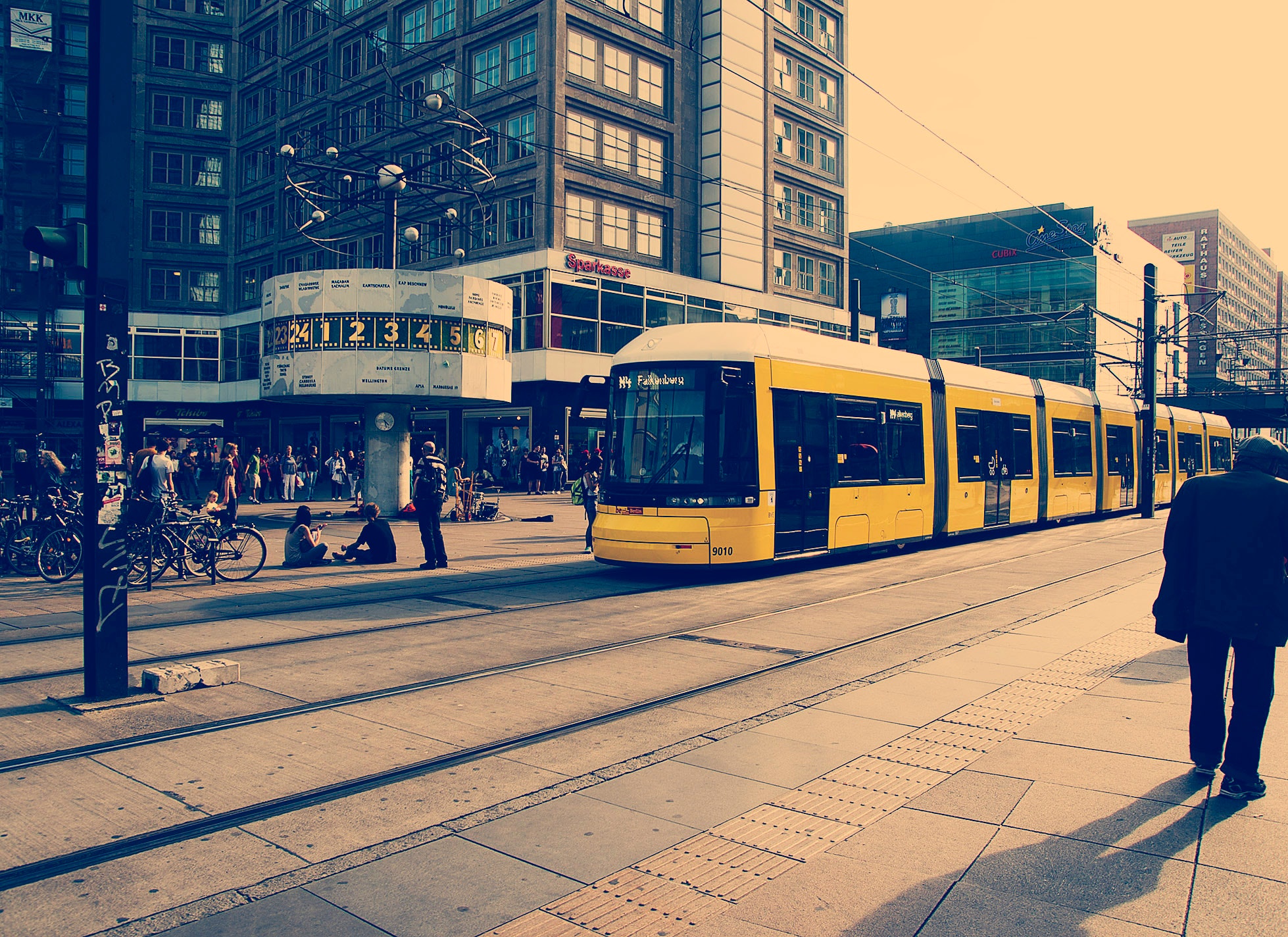 Once you sorted out your ways around the town and to the venue, you don't want to be carrying your belongings with you all day. Coats, briefcases, bags, backpacks…they don't make a great first impression. Luckily there is a number of coat-rooms you can use. But you really need to be smart about it - be sure to get there early and pick up your stuff on time. The last thing you need is the drama of spending most of your day in queues to the storage or losing your ticket (and stuff!).
Your ultimate ITB check-list:
[1]: A pair of comfortable shoes! You want to have your outfit on point, yes, but you simply won't be able to walk kilometres and kilometres (you've seen the map!) on rigid new shoes or high heels!
[2]: Always have cash with you! Most places don't accept different payment methods and you really don't want to be hungry or frantically looking for the nearest ATM.
[3]: Ask for receipts! If you need them, that is.
[4]: Some parties inside the fair precinct go longer than the coatrooms opening hours. Be sure to pick up all your belongings on time!
[5]: Take care of yourself! Try to sleep a decent amount of hours, stay hydrated, and eat properly and frequently. Your body will thank you later.
Find your work-life balance

You can and you should have fun while making the most of the ITB experience! However, we would recommend to take it easy on the first couple of nights or you won't make it through the week! Once you get settled and familiarised with the intense rhythm of the ITB you can step-up your game and discover Berlin's exhilarating nightlife!
In general, you will find that every evening there are many cool parties inside the fair. But keep in mind that you need to be on a guest list to join them so make sure to have your name mentioned.
PART 2: SURVIVING BERLIN
With all the honesty, the ITB event itself is a lot. You certainly won't have too much spare time on your hands. But if you are planning to stay for the weekend and you're willing to challenge yourself, you can always find time to discover the exciting and diverse capital city that is Berlin.
However, if you feel like you need a letup from the busy rhythm of the city, the Tiergarten park is the place to go. You can stroll, jog or bike through one of the most popular green spaces of Berlin. Actually, if the weather is on your side, renting a bike for a day or two is a great way of visiting the city, and you can literally find bike parkings and cycling paths everywhere.
Two very nice areas to walk around are also Orienstrasse (at Kreuzberg) and Prenzlauer Berg, where you will find many different options regarding shops, food, and drinks. If you want to taste real Deutsch cuisine and the typical Bavarian specialities you should definitely go to Hofbräu Wirtshaus Berlin, where you can try some of the best beer in an Oktoberfest pure atmosphere. Or go the Dei Fleischerei for the best schnitzels!
On Sundays, there's the Mauerpark Flea Market in Prenzlauer Berg, where you'll find secondhand clothes and many other vintage articles. Very popular amongst hip Berliners and tourists, partly due to the fun karaoke sessions that take place at the amphitheatre during the afternoon.
Take a nice walk through Augustrasse, one of the most well-known centres of contemporary art in Europe and discover one of the most alternative streets of Berlin full of eye-catching local art and curiosities.
Last but not least, if you want to put the icing on the cake and leave the city with an incredible memory of Berlin, we suggest going up the TV Tower. The breathtaking panoramic view of the city is a truly unforgettable one. But make sure you buy your tickets in advance as it can get busy. If you're willing to pay the price, you can also enjoy the experience from the observation & deck bar while sipping your favourite drink, or even book a table at the restaurant for a memorable dinner.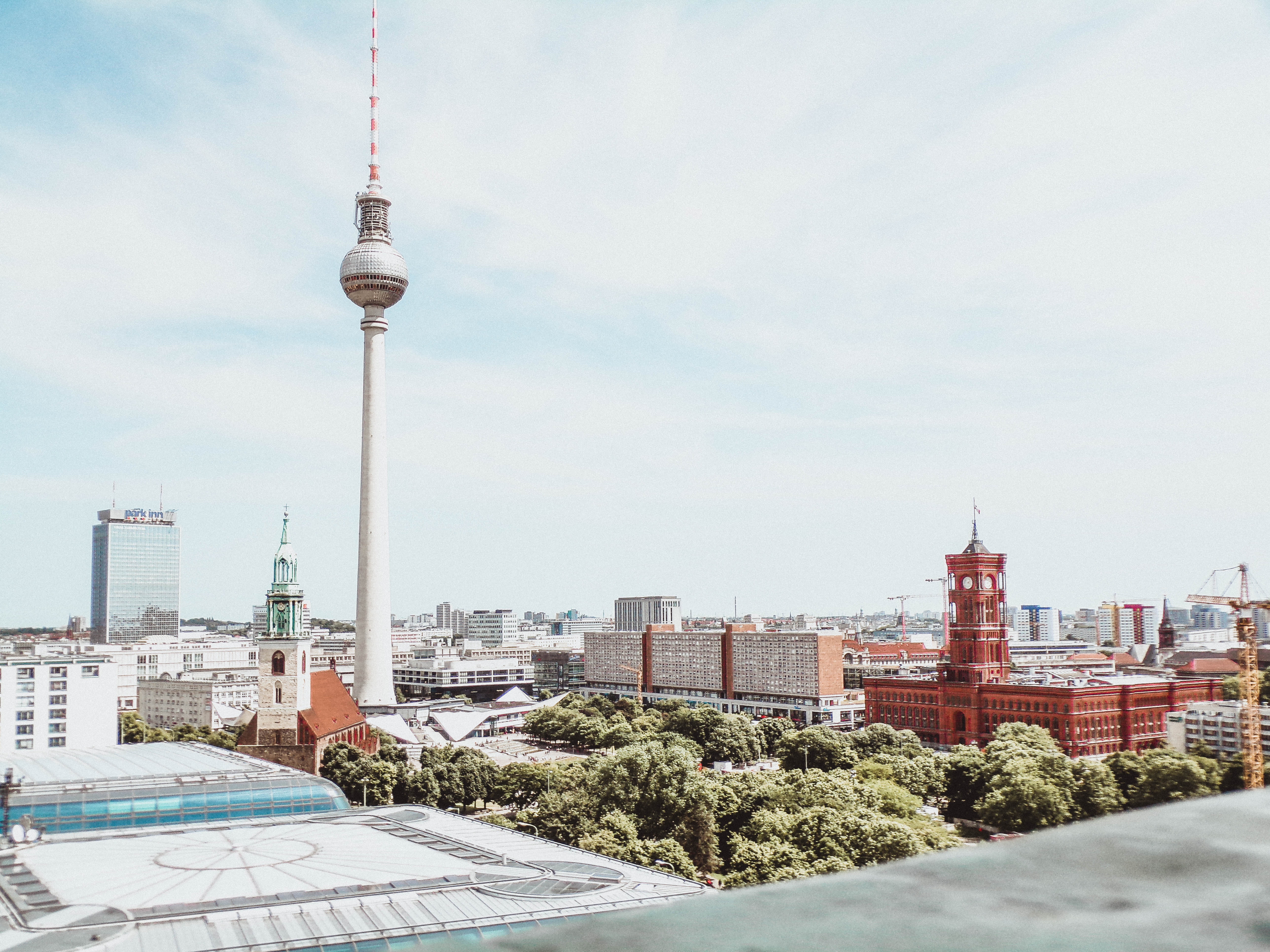 These are just some of the go-to places that we think you might enjoy during your short visit, but of course, there's an endless world of possibilities to choose from. Now you've only got one last thing left to do… book your tickets and start preparing to absolutely kill it at the ITB! And don't forget to make some time to meet us there! We'll be pleased to show you how we can help you transform more of your online visitors into paying customers and have higher conversion rates.
We would also love to hear about your past ITB experiences and your own personal insider-tips, so please feel more than welcome to share on the comments below!
Convious, the leading eCommerce platform for the experience economy, launched this week their Mobile Food Ordering solution. With Convious' Mobile Food Ordering technology, visitors can now.