6 key features your online ticketing solution should have
It doesn't matter if you are either on the lookout for a new ticketing solution to help boost your venue and sell more tickets online, or evaluating to change the current one you are using; a good all-in-one software should have certain features in order for it to be worth the investment.
Don't you hate having to jump from solution to solution to manage the same thing? Wouldn't you rather have everything in one place?
That is why we made this checklist, in order to help you in your evaluation process. For us here at Convious, the best solution is the one that helps you sell more tickets online and manage your business, all in the same place.
1) Manage Visitor Spread
Crowds and queues shouldn't be a thing anymore. A safe and predictable spread of visitors is now a necessity for the industry. You need to prepare responsibly for visitors to come and enjoy a safe and fun experience. The correct ticketing solution can help you with that: manage visitor distribution from your online ticketing booth.
2) Manage Orders
Handling orders is probably the day-to-day in your business management. So, what should you expect from this feature?

The possibility to see all your orders in the same place: you want to have control and see what is happening in our venue. How many visitors do we have planned for today? For tomorrow? For the week?


Manage your tickets: It's not only important to see them, but actually to do the main functions that your day-to-day requires. Think of actions such as refunds, resending tickets through email, printing out tickets, changing visit dates, changing ticket times, etc.
3) Configure Prices
If you are in the leisure industry, you probably know that pricing is king, and is one of the main factors that will have a direct impact on your revenue.
A good ticketing solution should at least allow you to manually change prices quickly based on certain factors that affect your business: demand, availability, weather, etc.
A GREAT ticketing solution should do that automatically by using AI. Immediately measuring supply and demand while establishing prices based on the factors we mentioned previously. This is called Dynamic Pricing.
4) Engage with your visitors
If you sell online, then you know the importance of driving traffic to your website. Imagine all that effort going to waste?
This happens if you don't have the correct engagement tools.
What should you be looking for here?
Self-service: A platform that will help you configure all of this whenever and wherever you want to. This means that you should not be expected to depend on a graphic designer or a programmer to have these tools up and running on your website.


100% personalization: not working with a designer should not mean that your engagement tools don't look as if a designer was involved. A good ticketing solution should work with 100% personalisable templates so that they look native to your website.

This is how we do it at Convious: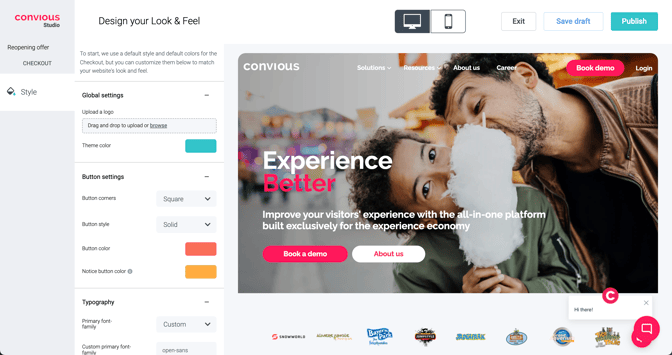 Here's a blog post about the best marketing tools that will help you engage and convert those visitors into paying customers, if you want to dig more into the topic.
5) Get Sales Insights
It's always nice to have a clear overview of how your sales are currently going. After all, it is one of the most important factors when talking about business.
Most of these insights should be displayed in a dashboard that will help you make the correct decisions.
Here are some Sales Insights we give to our Partners: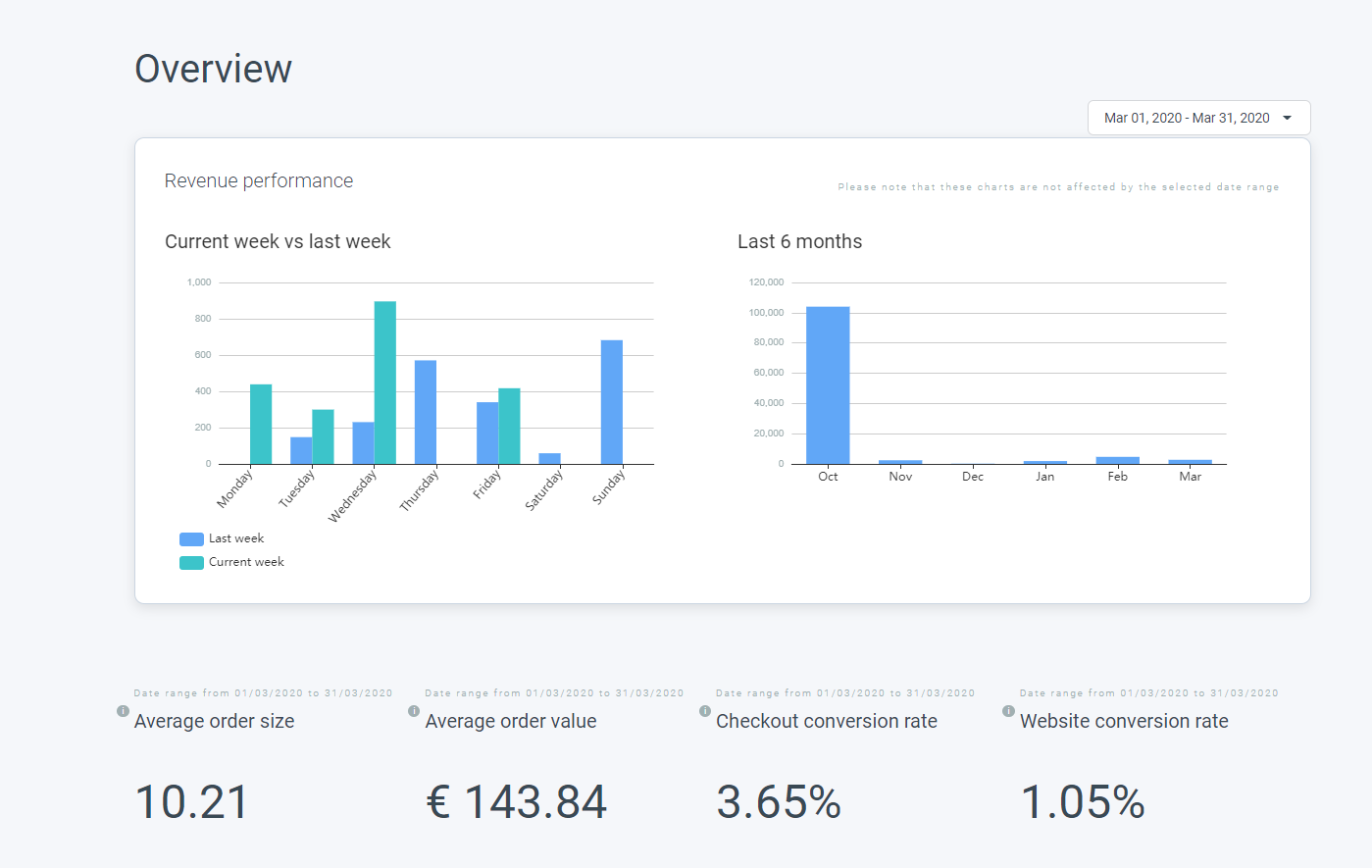 For us, at Convious it is important that our partners are 100% in control of their business, and for that to happen, data is key.
We showcase relevant information including:
Average order size
Average order value
Checkout Conversion Rate
Website Conversion Rate
Total Revenue
Products Sold
Revenue per Product
Average ticket prices
And more
If you are already selling online, then that you are generating this data. A good ticketing solution software should be able to collect it, process it, and showcase it to you in the simplest way possible.
Even the most relevant data becomes useless without an understanding of it. In the end, simplicity is the ultimate sophistication.
6) Analyse your Web Traffic
This is extremely relevant when selling online and that is why a good ticketing solution software should be able to display this information and get actionable insights into your website traffic.
You may be thinking: "Well, Google Analytics already takes care of that". And our answer is "Of course! But it's even better if your software integrates with Google Analytics"
You should at least access the following insight:
Revenue attributed per channel
Revenue attributed per device
Understand your traffic (online visitors) to optimize your conversion rates
See if you are attracting more new users or more returning users
Knowing how your visitors behave online should help you to brainstorm some ideas to optimise your strategy and sell more direct.
As said before if you are already selling online, you are generating valuable data. Don't you think you should benefit from it?
Combine your data with an AI-powered ticketing solution software and you will see crazy growth!
It all starts with selecting the perfect solution. ✨